Top 5 expert tips for speeding up your eCommerce payment processing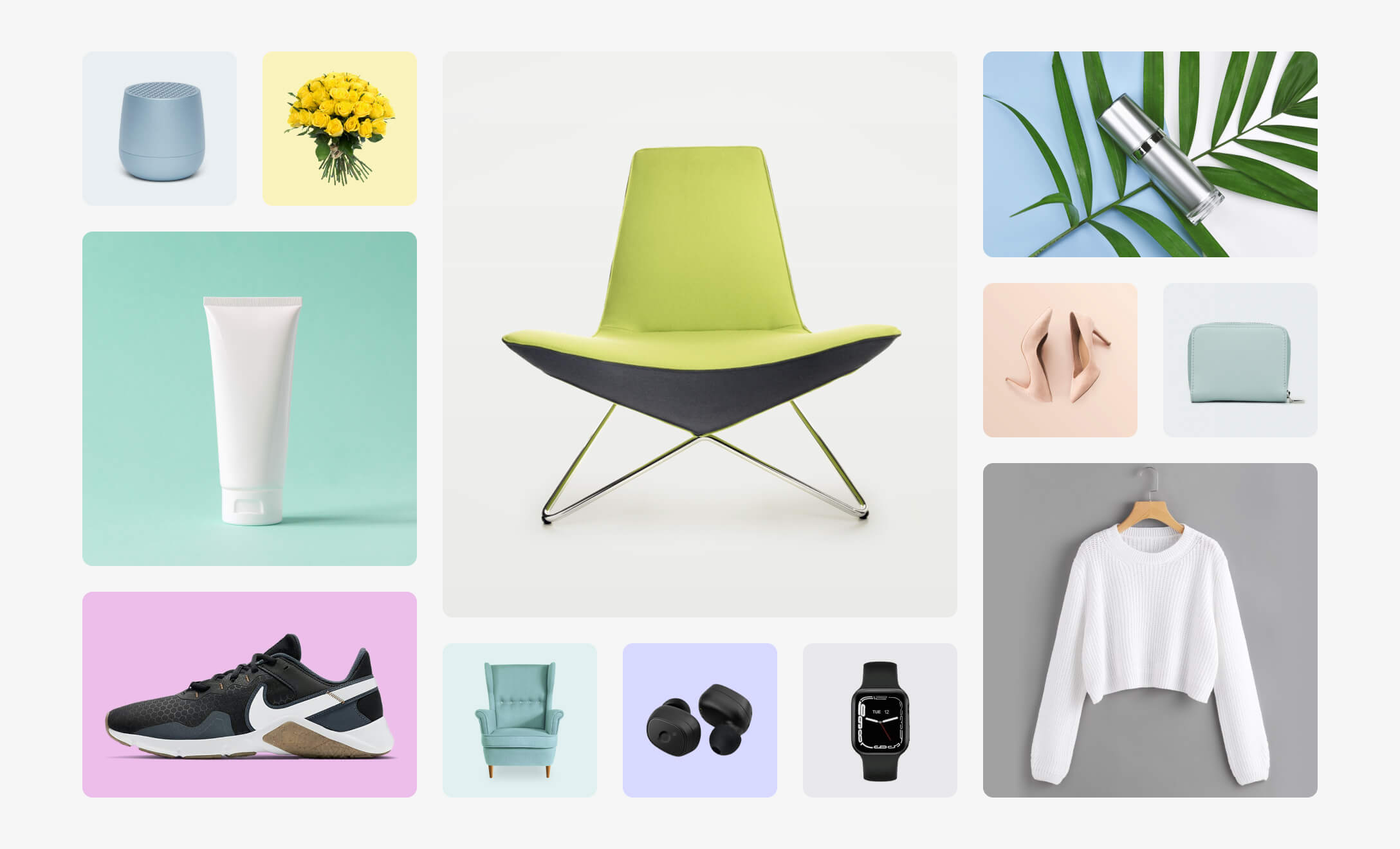 Nowadays, it's hard not to spend cash absent-mindedly when online shopping. Whether you're picking up groceries, buying a gift or taking advantage of a great new deal, people can grab whatever they need at a moment's notice.

But, whilst buying things online can save shoppers time on venturing out of their homes to the brick and mortar stores, eCommerce payment processing systems must be able to keep up too.

Simply having a payment option set up is no longer enough, and without a fast and efficient eCommerce payment processing system, businesses can lose sales through frustrated shoppers abandoning carts and opting for a faster competitor.

Instead, having a speedy service is key to holding onto customers' attention and trust, keeping things straightforward with as few obstacles as possible.

But how can you speed up the eCommerce payment process? Well, our experts have put together their top five tips and broken down the following:
How does eCommerce payment processing work
eCommerce payment processing is important to understand if you want to implement it into your business. Luckily, it's quite straightforward and we've broken it down for you into three easy steps:
The first step involves opening a payment gateway. This happens when a customer enters their details for payment after heading to the checkout page.
The second step is when the payment gateway communicates the payment data to the processor. This processor then communicates with the card-issuing bank to look over the payment. Once confirmed and authorised with the bank, it is then deducted from the customer's account.
The third, and final step occurs once the payment gateway has been told by the processor that the payment is authorised. Both the customer and your business will be informed at the same time, and then the money will be deducted from the customer's account and sent to the business.
This is a straightforward-to-follow process that happens every single day across a huge variety of eCommerce websites. However, technology is prone to some headaches here and there and it can cause businesses some costly problems.

Instead, speed up your eCommerce payment processing systems with Fondy's fixes and additions to keep your customers happy, sales up and the business growing.
Let shoppers pay without signing in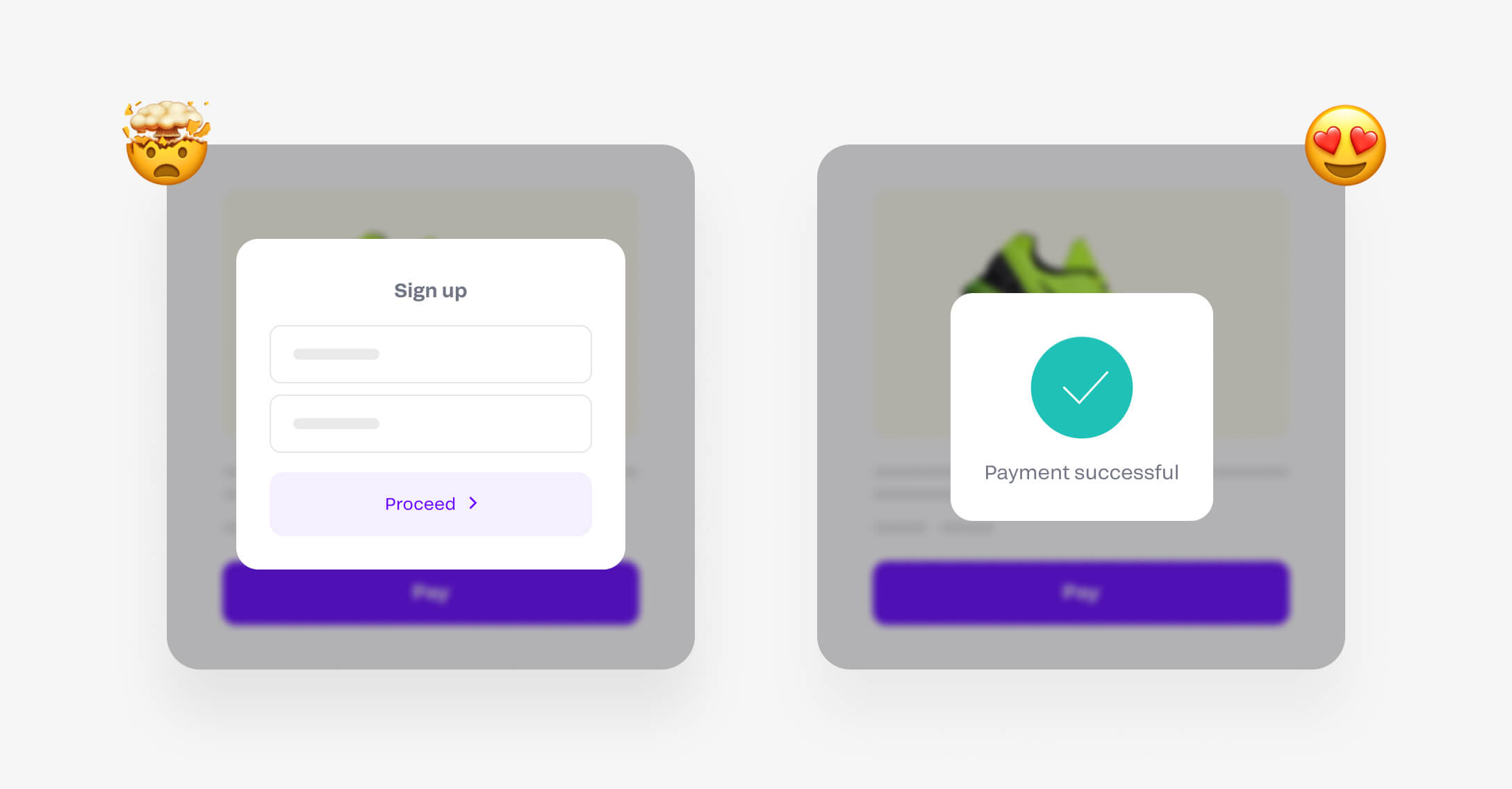 There are plenty of pros to having shoppers create an account before checking out on your business' website. Simply popping in an email address and creating a password doesn't take too much time, and is a great way to have your customer's contact information at the ready if you ever need it.

However, even though it isn't asking too much of your customers, it can be an explanation for some issues your business might be experiencing. Whether your conversion rates are dropping or shoppers' carts are being abandoned, having a sign-in page pop up before people can checkout can be a block in the road that people aren't willing to overcome.

Even if shoppers have auto-fill set up, there may be some sections they have to manually fill out, all adding time to the process of checking out.

By removing this or adding a skip option, you will be able to secure shoppers' cash and keep their attention for a few seconds longer. If you still want to encourage visitors to your site to sign up, you can add in an offers section when they first visit, or a form they can quickly fill out at the end of the checkout process.
Reduce payment information requests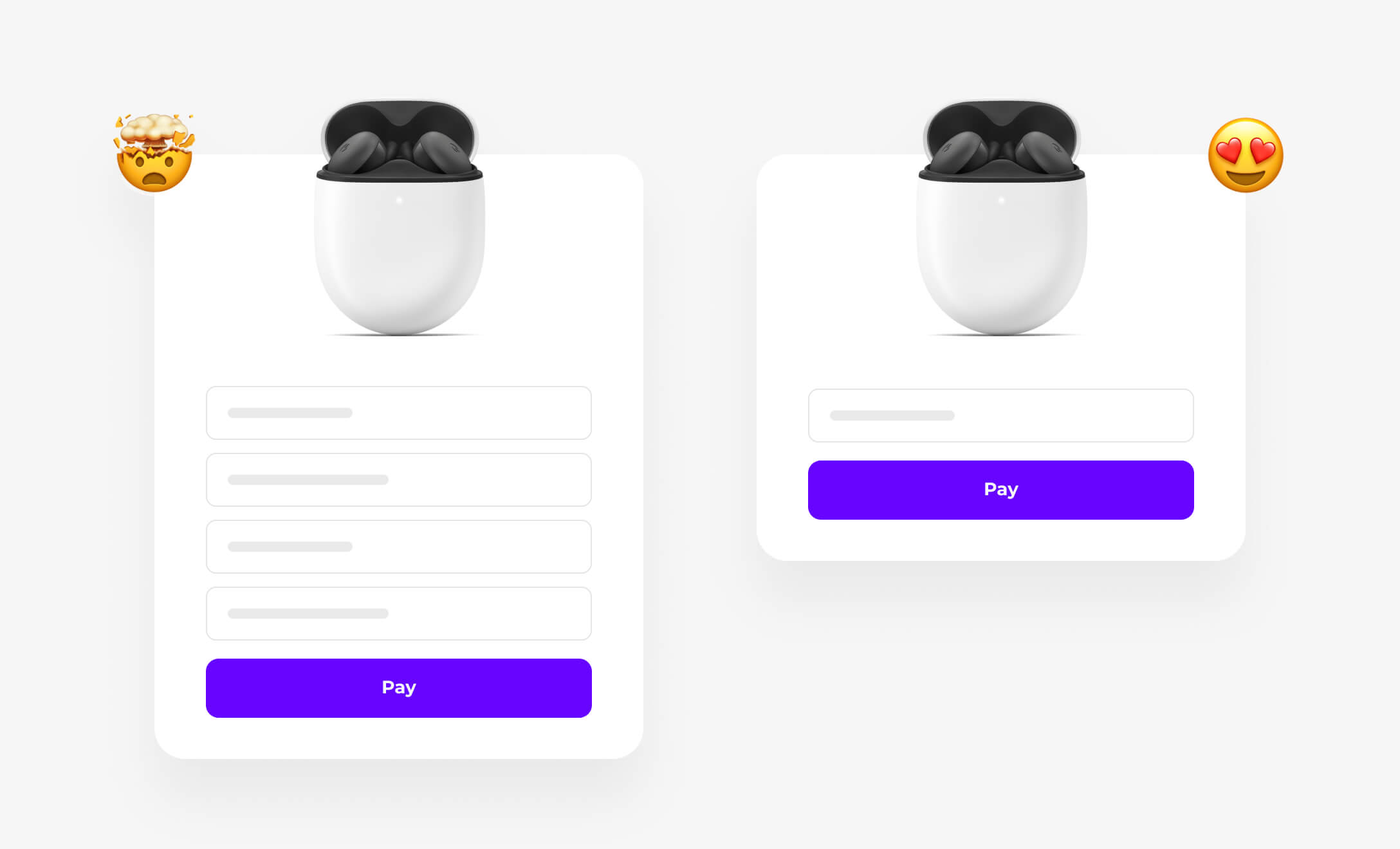 Naturally, your checkout page will require shoppers to input their financial details to finish the payment process. However, you can still speed up your eCommerce payment processing system without losing key information.

Instead of making extensive details mandatory, such as date of birth, full name and more, simply ask the customer to provide the bare minimum. By not having your shoppers fill out lengthy forms just to checkout, they're more likely to leave with a positive impression of your quick and easy checkout process and come back to shop with you again.

However, remember that by removing these options, you will lose out on learning more about your customers. This kind of information is valuable, but it's important to weigh up if it's more important to you to have a speedy eCommerce payment processing service instead.

If you don't want to give it up and are looking for a compromise, we recommend adding in a form at the end of the checkout process, asking shoppers to create an account to gain access to offers, tracking information and more. Here, shoppers have the choice of whether or not they share their information, without it being an obstacle to their final purchase.
Reinforce trust with your shoppers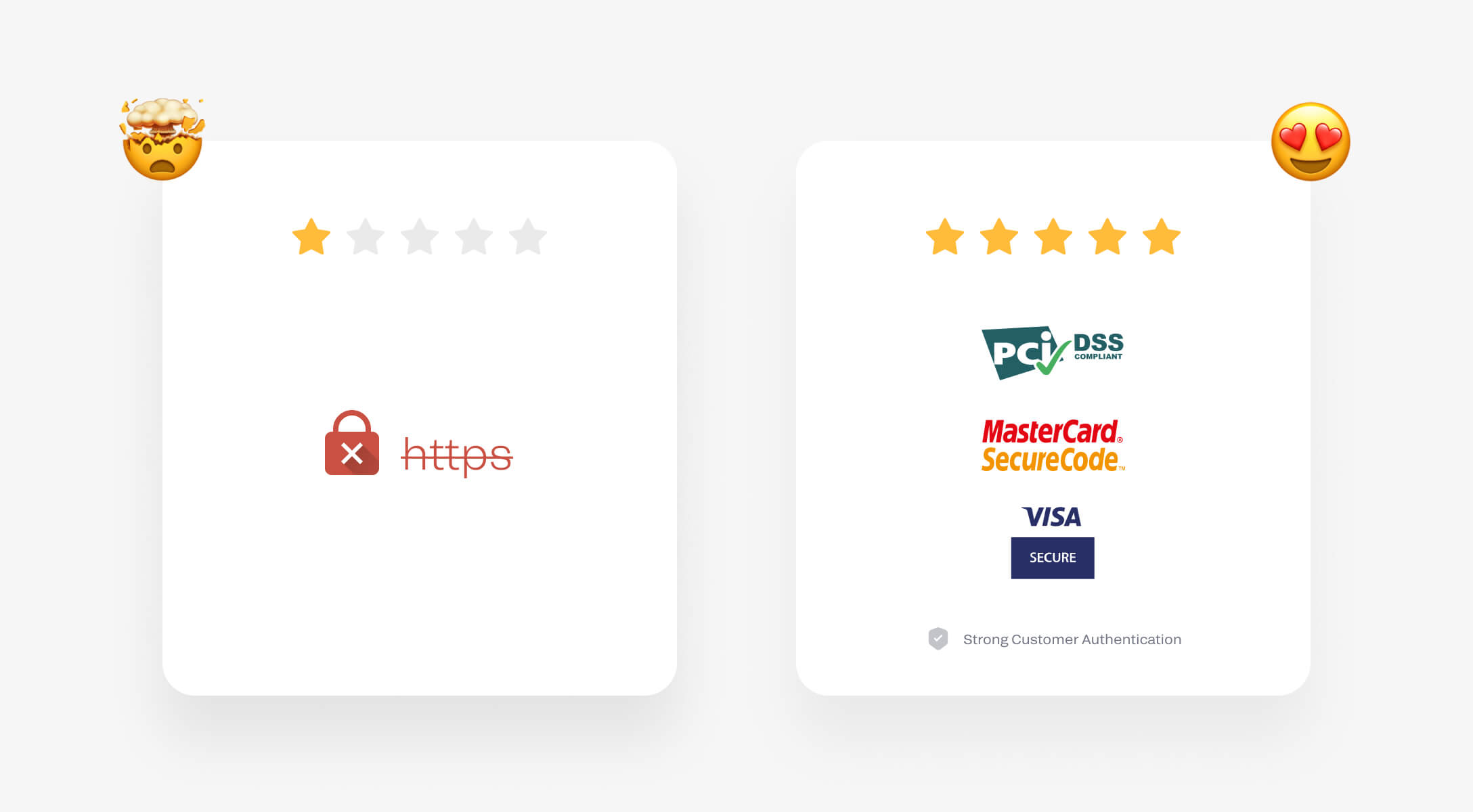 Asking shoppers to input their sensitive information into your website, along with financial information, can put customers on edge if you haven't given them a good enough reason to trust you.

Many shoppers will turn to external sites to review your security and trustworthiness, checking up on reviews and any potential issues they can come to expect by using your eCommerce payment processing system.

By giving your customers a reason to leave your site, you immediately slow down the process of a shopper checking out and could see a loss in sales. Instead, include reviews and overall security ratings from external sources at the checkout point, so that shoppers can immediately verify you as a safe and reliable business to share their information and hard-earned money.
Avoid redirecting shoppers away from your site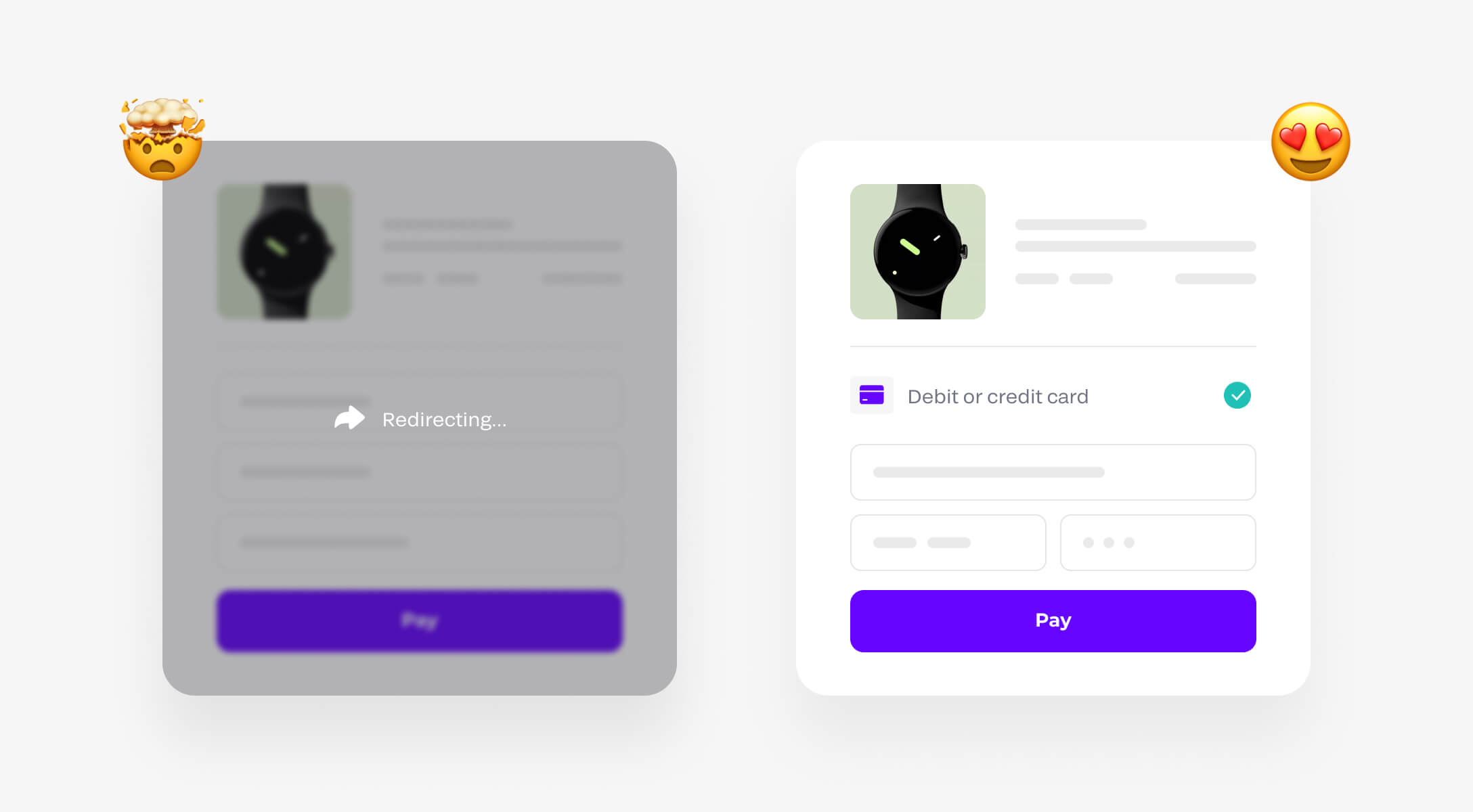 eCommerce payment processing should be swift and simple. It should never be an obstacle for shoppers looking to spend money with your business.

But unfortunately, some eCommerce payment processing systems add additional stages that can affect the way a shopper will make an online payment. An eCommerce platform can offer shoppers multiple ways of accepting payments beyond submitting credit card information by using third parties.

PayPal is a good example, as whilst it's a well-known and secure payment service, it redirects your shoppers from your site to theirs to finish the payment. This can immediately change a customer's decision to spend money, giving them more time to think it through and change their mind.

Redirecting can also slow down your site's checkout process, giving shoppers a less positive experience on your site and reducing the chances of them making a return. Instead, try offering a variety of payment options that don't redirect shoppers to a different site, keeping your eCommerce payment processing system speedy, so you hold onto their attention and their custom.
How Fondy can help
Fondy is passionate about supporting businesses in developing fast and effective payment solutions for online payments. Our team of professionals knows how to use technology to ensure shopping carts aren't abandoned, customers leave happy, and your business has more money in its pockets.

This has been done by innovating processes along with industry trends so that you can have a payment solution that is speedy, reliable and designed to keep up with your customers.

Choose Fondy's checkout page service to gain access to a wide variety of options for you and your customers, along with an interface that customers can complete their checkout on in less than three minutes – all whilst being PCI-compliant and completely secure.

Opting for Fondy's one-click checkouts means you'll have access to simple integration that requires no developer or design knowledge, so you'll be able to tailor it to your business's specific needs. If you have used a website builder, you can enjoy Fondy too, as our services are designed to work with common web platforms like WordPress, Magento and Wix.

It will also offer shoppers a range of local payment methods so you can be sure sales will increase and carts won't be abandoned. Fondy makes sure that you'll be reaching a global audience too, thanks to the system accepting payments in more than 100 countries and more than 150 currencies.