An introduction to Fondy Flow
If you need information about Fondy Flow, you're in the right place. Continue reading to discover everything you need to know about Fondy Flow, including:
What is Fondy Flow?
According to an article published in Forbes, around half of the UK's fastest-growing businesses have a foreign-born founder. The article goes on to suggest that such individuals are "natural entrepreneurs, equipped with a grit and willingness not only to migrate but ensure business success".

Along with the trials and tribulations of moving overseas, some immigrant business owners have also to navigate the complex web that is cross-border commerce. Fondy Flow simplifies the process of setting up multiple accounts and managing payments, making it easier to sell your products overseas.

Fondy Flow (or just Flow) is a multicurrency business account that lets companies receive and transfer funds, and make payouts in multiple currencies.

For new and small companies, Fondy Flow is a boon to business. A Flow account removes the hassle, expense, and time restraints usually associated with processing business payments.
How does Fondy Flow work?
As Fondy Flow accounts have their own IBANs, they work similarly to local bank accounts. Even better, with Fondy Flow, you can open accounts in multiple currencies and conduct business like a local in different countries.

That means an entrepreneur in the UK can pay their suppliers in Tokyo in Japanese Yen directly from an account in the same currency. Alternatively, if that supplier prefers payment in a different currency or by a different method, such as Open Banking or card payments, Fondy Flow can enable that too.

Equally, Fondy Flow lets you receive payments in whichever currency suits your business needs. What's more, Fondy Flow offers convenient features such as split payments, reconciliation, instant payments, and dedicated IBANS or wallets for your customers with a Master account or separate IBAN that enables you to keep reconciled funds for each client. These features help automate the payment collection process and cash flow monitoring.
The benefits of Fondy Flow accounts
Fondy Flow was created for busy entrepreneurs who need automated real-time payment flows to receive and transfer funds.

When you use Fondy as your preferred gateway for friction-free cross-border payments, you get a free multi-currency Fondy Flow account. The account offers the convenience of managing the flow of your corporate funds all from one platform.

Some additional advantages of Fondy Flow include:
Receiving instant payments in your currency of choice

Accepting and receiving money in the same currencies so that you can avoid extra charges for international transfers and currency conversion

Making instant payouts in local currencies without delays

Multiple payment methods, including payment links and online invoices

Real-time interface updates that show which transactions are complete or pending

Creating additional accounts for different business departments, entities, and payment purposes

Easy cash flow reconciliation

Complete control of your payments, invoices, and currency conversion
Types of Fondy Flow accounts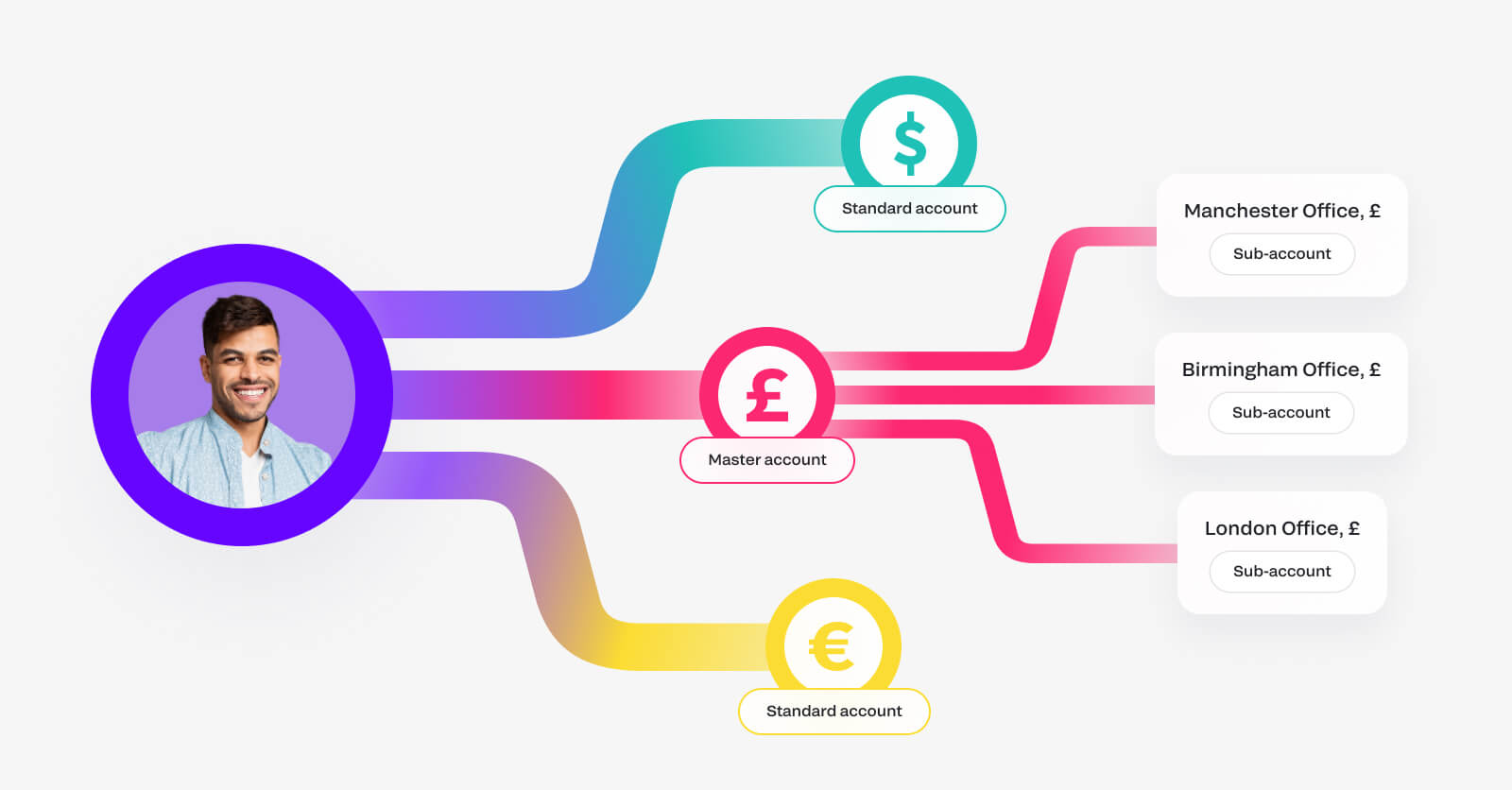 There are two types of Fondy Flow accounts, a standard account, and a master account. Depending on the size and scale of your business, one type of Fondy Flow account may be more suitable than the other.

Standard accounts
Receive your own business IBAN
Create up to three Standard accounts with Fondy Flow
Send and receive funds instantly via the Faster Payments network
Great for managing revenue and expenses and paying suppliers
Manage settlements from your online business
Perfect for entrepreneurs and small to medium-sized enterprises (SMEs)
Master accounts
Receive your own business IBAN
Create as many free Wallets (sub-accounts) as you need
Use Wallets to separate funds by business location, department, model, etc
Get funds directed to specific Wallets using unique payment references
Simplify reconciliation between different partners, suppliers, or clients
Great for getting an overview of your Master account balance, i.e, the sum of all Wallets under the same IBAN
Perfect for large-sized corporations
Fondy is the perfect payment gateway API for businesses of all sizes. Benefit from payment flows in 150 currencies in 200+ countries. What's more, choose from online payment methods, including Open Banking and local bank cards across 300+ banks in the UK and EU, and give your customers complete flexibility.