A guide to borderless payments
If you need information about borderless payments, you're in the right place. Continue reading to discover what you need to know about borderless payments, including:
What are borderless payments?
Borderless payments are transactions that take place between one country and another but are processed as if no border exists. Without a border, these transactions can side-step fees and restrictions, making them cheaper and faster.

Whenever someone makes a purchase domestically, say from one pound sterling account to another, there's a system that carries the money from the buyer's account to the merchant's account. With cross-border payments, that system becomes more complicated.

That's because cross-border or international transactions require a change of currency, foreign transaction fees, and dealing with an exchange rate.

With borderless payments that mostly remove the need for fees, forex, etc., banks, card networks, and a group of varying domestic entities have to cooperate in order to transfer funds overseas smoothly.
The current state of borderless payments
As mentioned above, the rise of borderless payment innovation is helping reduce the costs of sending money overseas by around 20% and providing a necessary bridge between merchants and consumers (sales) and between individuals and relatives (remittances). In fact, nearly two-thirds of consumers send cross-border payments to financially support loved ones abroad.

And the importance of borderless payments was fully displayed during the coronavirus pandemic. With global lockdowns in effect, having different ways of sending speedy, secure, and low-cost payments overseas were more necessary than ever.

One example of this was the problem of sending cross-border payments to recipients without a bank account. New borderless payment technologies have made it possible for individuals in cash-heavy societies like Nigeria and the Philippines to receive borderless payments through features like eWallets, virtual IBANs, and cash pick-ups.

That said, there's still a need for more card networks, local payment providers, and digital technologies to expand their reach and customer base in new countries. Recent innovations like virtual accounts and mobile wallets have even made real-time transactions possible compared to several days in the past.

Effective borderless or cross-border payments often begin with suitable payment localisation options. Localisation is when merchants make their international customers' preferred payment methods available. So if a merchant in the UK sells a certain product to customers in China, then offering them the option of paying by Alipay is a great example of localisation.

While a convenient feature, it requires the merchant to integrate multiple payment platforms to support localisation. Payment service providers would need to support local payment gateways, offering multiple languages, exchange rates, etc. Nowadays, merchants looking beyond places like China for a more global consumer base might need to offer multiple localisation options.
What is multicurrency acceptance?
Multicurrency acceptance is a payment processor or gateway's ability to support various payment options in foreign currencies. In the modern age of cross-border commerce, most business owners want the option of receiving and making payments, settlements, payouts, and more, in the currencies of their choice.

A great example of multicurrency acceptance is multicurrency bank accounts. With a multicurrency business account, the account holder can pay and receive money in different currencies without the need for foreign exchange, including conversion fees and exchange rates. But what happens when you want to know the combined value of your multicurrency account? To fulfill this function, you'll need the multicurrency reconciliation feature.

As a one-stop payment platform, Fondy understands businesses and online commerce gateways need to be flexible and accept various payment methods such as local debit cards and credit cards. Check out our About Fondy page online and discover more about us, including our API payments technology.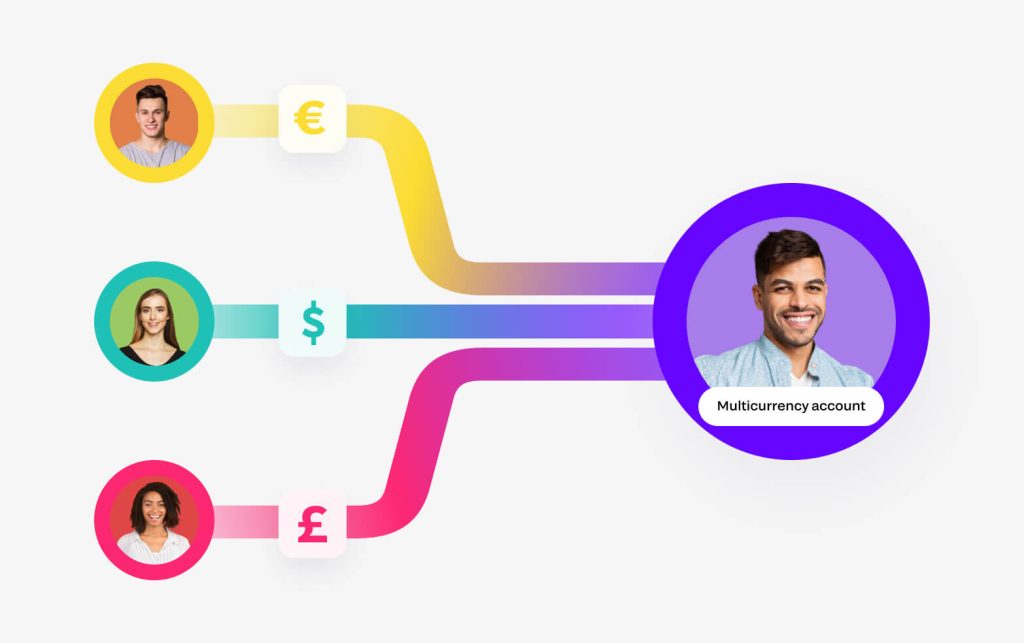 What is multicurrency reconciliation?
Multicurrency reconciliation is the process of reconciling multiple accounts in various currencies into a standard currency. For example, imagine your company based in the United Kingdom does business in the European Union, the US, and Sweden. That means you'll probably handle euros, dollars, and Swedish krona transactions. And because you're a UK-based business, you'll want all your transactions converted into pounds sterling, the original documented currency.

With multicurrency reconciliation, business owners can work with the original currency, and the payment gateway will automatically translate values to the account's standard currency using appropriate specified rates. Businesses can also view all their transactional currencies at once and choose to reconcile to several translated balances to ensure money is accounted for properly.
How to offer multicurrency acceptance
You can offer features like multicurrency acceptance and reconciliation to your customers with a robust payment solution like the Fondy payment gateway. Fondy automatically recognises the currency of your client and gives you the option of paying in the same currency. Equally, your business will receive payments in the currency held in your Fondy IBAN account, thus avoiding any forex charges.

That way, expanding overseas becomes easier by delivering solutions tailored to various markets, such as multicurrency pricing, so that your customers aren't burdened with paying extra fees for currency conversion.

Tailored solutions can positively impact your sales as customers are more likely to buy from your eCommerce store again and again when you allow them to pay in their local currencies and with their preferred payment methods. In fact, multicurrency-based features should be an essential part of any cross-border marketing strategy. The alternative is that your businesses may end up with abandoned carts and lost sales.

Fondy is the perfect payment gateway API for businesses of all sizes. Benefit from payment flows in 150 currencies in 200+ countries. What's more, choose from online payment methods, including Open Banking and local bank cards across 300+ banks in the UK and EU, and give your customers complete flexibility.