Enhancing patient care and business operations with payments: the role of a tailored payment provider for MedTech platforms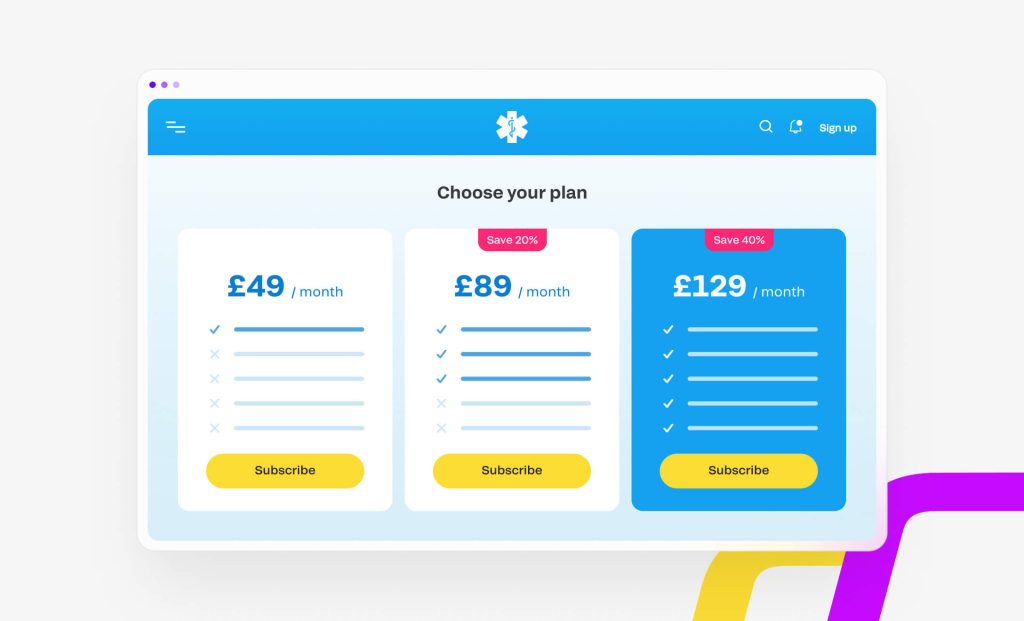 Most healthcare SaaS platforms typically use subscription-based payment models. That means charging users a specified amount monthly or annually to use their services and, at the same time, having access to predictable revenue streams. While subscription models suit many sectors, the healthcare industry needs multiple payment models and, most importantly, efficient payment flows. For instance, many MedTech vendors have switched to pay-per-use (PPU) payment models to cover temporary or one-off healthcare services and treatments.

In fact, tailored payment solutions are essential to improving patient care. Making sure that patients, family members, and healthcare providers have preferred payment options is one way of providing essential peace of mind. Even better, making those payment options as seamless as possible goes a long way toward improving patient-healthcare provider relationships.

With versatile payment solutions and money management features, Fondy is helping healthcare SaaS platforms move money without friction. Whether it's multicurrency payouts, instant settlements, or even customisable checkouts, Fondy bridges the gap between marketplaces and platforms and their customers. In other words, Fondy can help connect MedTech providers to patients and crucial treatments and services.
Insights into payment processes within the healthcare technology landscape
Medical technologies continue to help citizens to stay socially and economically active, and by preventing certain chronic diseases from worsening. As a result, MedTech continues to add value to healthcare systems and society by delivering efficiency and enhancing the future of healthcare. But what is the current state of payments in the MedTech sector?

Currently, MedTech manufacturers, platforms, and companies are under pressure to deliver value by creating or adopting new payment models to meet consumer needs and navigate regulatory requirements.

So, what are the factors driving the demand for new payment models? According to Deloitte's New payment models in MedTech report, some of these factors include:
Market dynamics like economic buyers' increasing decision power
Technological advances such as remote patient monitoring
Care transformation, such as the rise of retail and virtual care
Value-based care, like payment models from Medicare, the NHS, Medicaid, and private providers
Policy and regulatory factors such as the Health Insurance Portability and Accountability Act (HIPAA)
Collaboration between healthcare professionals is critical. This is why healthcare platforms continue to look for ways to enhance cooperation between different departments and streamline their processes. These processes now extend to include payment processing. For MedTech platforms, that means finding tailored payment providers depending on the type and value of their products and services and the market and regulatory requirements. With a tailored payment provider, payment processes get streamlined by automatically handling all these payment and compliance requirements. Tailored payment providers can also help MedTech platforms by developing value-based contracts that share the financial risk and reward between MedTech manufacturers, providers, and payers.

In addition, some payment service providers can also help with implementing policies like the MedTech Funding Mandate, which ensures that certain innovative MedTech products are reimbursed by the NHS in the UK.

Above all, streamlining payment processes can help MedTech platforms manage their cash flow and working capital, increase return on investment, and improve operational efficiencies to enhance relationships with their partners like vendors and suppliers. Strengthening this business area also allows MedTech providers to better allocate staff to focus on more value-added activities and other strategic initiatives.
The importance of tailored payment solutions in MedTech
Using a comprehensive payment solution is vital for every business. In sectors like EdTech and MedTech, reliable payment service providers and payment flows can be life-changing and, in some cases, life-saving.

At Fondy, we tailor our payment flows for as many types of individuals and company types as possible. That means using geolocation technology to offer the most convenient local payment methods, languages, and currencies.

Flow Payments is the one-stop payment solution that lets funds flow seamlessly, enabling platforms like MedTech companies to manage money flows on one unified and convenient platform. What's more, Flow Payments enables businesses to make cost-effective instant payouts, split payments, settlements, and more to merchants, customers, or partners.

The positive knock-on effect for MedTech professionals, platforms, and companies is improved operational efficiency, while patients and healthcare professionals receive a better overall care experience.

Fondy lets you save time, avoid long delays, and maximise revenue by breaking down economic borders when you pay, receive, and transfer funds, including processing split payments and payouts in multiple currencies.

Additionally, MedTech platforms can create business accounts with access to the UK banking ecosystem. That means receiving the full benefits of a traditional bank account without the limitations or red tape.
Some more benefits of Flow Payments include:
Flexible multiple payment methods such as Open Banking and eWallets
Multicurrency payment acceptance
Custom invoices and payment links for easy distribution
Custom checkout landing pages tailored to your branding
Instant settlements of funds sent via Pay-by-Bank to avoid delays
How instant settlements accelerate positive cash flow
For MedTech platforms especially, instant settlements are an important way of receiving payments from patients and healthcare professionals without the usual, time-consuming bank processing period. This benefits MedTech platforms by improving their cash flow for transactions such as expenses, investments, or even taking advantage of sudden opportunities. Instant settlements can also help limit the risk of potential chargebacks, fraud, scams, or transaction failures.

With Flow Payments' instant settlements feature, MedTech platforms gain complete control over their cash flow. That means accelerating their business operations via instant access to funds. Even better, platforms receive settlements straight into multicurrency business accounts as soon as customers or partners make a payment. In other words, faster settlements equal smoother business management.

As previously mentioned, instant settlements mean improved cash flow and financial stability for MedTech companies. These benefits are achieved via steps such as:
Faster access to funds
Removing the 5-10 day waiting time for customers' payments to settle
Better management
Paying employees, purchasing inventory, or business expenses seamlessly
Reduced costs
Lowering the cost of accepting payments by side-stepping expensive card schemes and bank FX fees
How business payouts simplify financial operations
Payouts in the MedTech industry can be straightforward to handle. That's because whenever a patient purchases a MedTech provider via a marketplace or gateway, the marketplace or gateway will initially receive all the funds regarding the sale. Then, the marketplace will have to pay the provider the proceeds of said sale via a payout. Any complexities normally arise when one patient completes a transaction involving several MedTech providers, much like buying several goods from different sellers on Amazon or eBay.

Instant payouts are a feature of Flow Payments and the Fondy Gateway account. The Flow account can be linked to supported bank accounts, to which you can then make instant payouts. Within the Fondy Gateway (separate from a Fondy Flow account), you can link a supported bank card to which you can make instant payouts.

On the Fondy Gateway, for example, you can make instant payouts to partners locally in 35 countries using a single API. Simply set up automatic payouts from pre-selected wallets and accounts, whether yours, a partner's, or a supplier's account.

You can request instant payouts any time, including weekends and public holidays, and funds typically appear in the associated bank account within minutes.

In situations like these, Fondy's automated, secure, and instant payouts feature ensures that payments for the necessary medicines or treatments are processed efficiently.
Multiple payment methods: enhancing patient convenience
Whether it's the patients themselves, their families, friends, or healthcare assistants who are responsible for purchasing services or treatments, offering flexible payment methods is the key to efficient MedTech, improved healthcare and peace of mind.

Flow Payments enables over 300 payment methods, using geolocation to display the preferred local options and languages and with payments in 150 currencies. Customers will automatically see familiar payment choices, including local cards, internet banking, and eWallets, as well as international debit and credit cards.
Comprehensive money management: transaction and data management
MedTech providers generate vast amounts of complex data every day, which can be highly beneficial. This data can also present a lot of challenges and complexities, including measuring it and coming up with strategies for simplifying and managing the data effectively. In today's data-driven MedTech space, simplifying financial data is crucial for effective decision-making.

Standardising data formats, implementing data visualisation features, and leveraging advanced analytics and machine learning technologies are effective methods that can help break down complex financial data. By simplifying financial data with systems like Flow Payments, MedTech decision-makers can gain meaningful insights and make more informed and better decisions, including managing cash flow.

In MedTech, the continuity of a supply chain is critical to patient well-being. As such, no business wants to either tie too much cash up in an oversupply of equipment or, at the same time, run out of stock. To combat this, MedTech providers need to tap into comprehensive money management systems like Fondy to improve cash flow and, ultimately, operational efficiency and data insights.

Fortunately, with advanced payment systems like Fondy, MedTech providers can streamline their payment and money management operations. Through features like customisable checkouts, one-click checkouts, multicurrency payouts, and more, Fondy is the perfect payment solution to complete the final step in the patient purchase cycle. That way, both patient care and business operations thrive by leveraging Fondy's features.

Want to learn more about the importance of tailored payment providers to MedTech platforms? Then, read our article on the role of payment APIs in the MedTech industry.