Harnessing the power of subscription payment models for growth and customer loyalty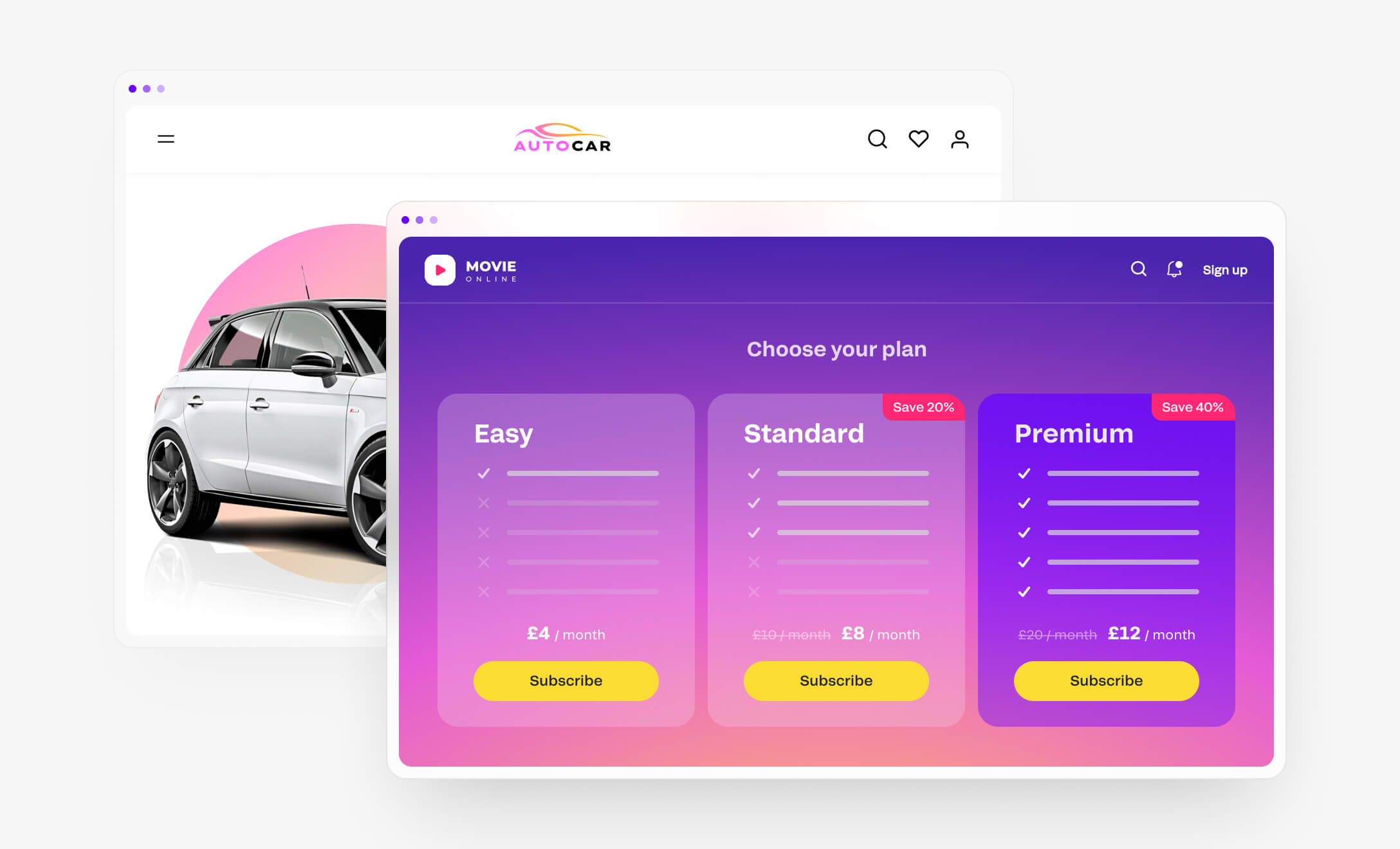 Subscriptions are a key ingredient to everyday life, and their popularity continues to rise. Want to visit the gym every week? Get a subscription package. Fancy chilling out in the evenings watching films and TV series? You're better off with a Netflix subscription. Need regular access to a car without buying one? It might be worth subscribing to a car-sharing service.

For platforms and marketplaces such as SaaS providers, subscription-based models are a great way to structure a business as it's easier to predict revenue streams, which, in financial terms, is like the holy grail. That's because predictable income enables companies to plan for future investments, such as additional staffing and growth initiatives, with more confidence rather than a "hope for the best" approach.

Whereas for customers, subscription-based models often come with cost-effective pricing options and the added confidence that essential services like MedTech and EdTech won't be cut off unexpectedly. However, there are many more reasons why both customers and businesses find subscription payment models appealing.
The benefits of subscription-based payment models
As mentioned previously, the benefits of subscription-based payment models include reasons like predictable revenue for businesses and flexible pricing options for customers.
Convenience
Customers can choose, use, and only pay for the features they need. Additionally, subscription-based models often provide customers with ongoing support and upgrades, ensuring that they always have access to the latest software features and security updates.
Peace of mind
As mentioned above, subscription models are great for reassurance in terms of customer bliss. Whether it's important MedTech services or simply to catch up on your favourite streaming series, knowing you have around-the-clock access does wonders for customer confidence.
Value of money
Subscriptions, unlike one-off payment models, offer more choice to customers. Whether it's Spotify Premium for a family of six or an individual package for 12 or 18 months, subscriptions usually save you money when you pay for services in a bundle and in advance.
Personalisation
Another reason for the rise of subscription-based models is the increasing importance of customer relationships. With traditional software licensing models, companies typically sold software to customers and then had little to no interaction with them until it was time for a software upgrade or renewal.
Whereas for the companies offering the subscription model themselves, the many benefits include:
Greater flexibility in pricing

– with greater flexibility in pricing and packaging, allowing them to tailor their offerings to different customer segments.

Boosting customer loyalty

– in subscription-based models, companies have an ongoing relationship with their customers as they continue interacting with the software. This ongoing relationship provides opportunities for companies to better understand their customers' needs and to provide them with personalised services.

Funding growth projects

– subscription-based models provide predictable revenue streams that can be used to fund growth initiatives and invest in research and development, as well as fund employee training and upskilling.
For marketplaces and platforms, payment service providers like Fondy can help support subscription payment models for all types of products. That's businesses from MedTech services to food delivery apps and everything in between.

In one single integration, Fondy facilitates recurring payments seamlessly while also assisting with features such as automated invoicing and cash flow management.
Driving growth and customer loyalty
Instead of making large upfront payments, the concept of making small, regular payments is more appealing to consumers. And these small, regular steps (payments), when viewed from a distance, can contribute to significant business growth. So, while clearly advantageous for consumers, subscription-based service models can also be great for merchants, who can offer services at lower, more appealing costs, which often makes them more accessible to more customers.

According to a joint study by PYMNTS and sticky.io, offering flexible subscription options, not just basic subscriptions themselves, could be key to business success. The results revealed that 97% of top-performing retail subscription players offer customers the option to make plan changes, such as delivery frequency and even the ability to pause a service during the subscription period.

This means that in the highly loyal world of subscription services, marketplaces and platforms must continue to evolve their subscription offerings to meet customer needs and fuel business growth.

Managing a subscription payment model comes with a number of challenges for marketplace and platform owners. Luckily, with a reliable payment service provider like Fondy, with a mixture of payment solutions and money management software, merchants can tackle a number of challenges, such as:
Processing high transaction volumes
Monitoring chargeback-to-sales ratios
Fulfilling recurring billing
Meeting payment industry regulations
Adding security and data protection
Managing payment flows for subscription models
Billing management is a key part of running a successful software company. That's because, as many SaaS business models operate with multiple pricing tiers, huge customer databases, and wide-reaching services, they often have difficulty managing each billing scenario.

That's why successful SaaS companies should lean on specialised payment service providers or SaaS billing software to manage their payments to ensure accurate billing, efficient collections, and an overall great account experience for every customer.
With a payment service provider like Fondy, SaaS platforms can handle recurring payments efficiently in various ways, such as:
Offering flexible multiple payment methods
Having various ways to pay ensures both timely payments and keeps cash flow and revenue streams steady. Even better, a wide range of flexible payment methods means that you reduce the number of support requests for your customer service team.
Automating administrative tasks
Automating routine billing tasks like invoicing, regular payments, and account management to make it easier for SaaS platform's customers to update their payment information, view their billing history, or change the frequency of their services.
Monitoring customer behaviour
Analytical tools can help SaaS organisations better understand customer trends, improve pricing strategies, and unlock new growth opportunities.
Handling disputes, issues, and refunds properly
Having a plan in place for these scenarios, including failed payment handling, can help SaaS organisations handle disputes more efficiently without ruining customer relationships.
In addition to handling recurring payments efficiently, SaaS platforms should also have best practices in place, such as:
Streamlining failed payment retries

– unsuccessful payments can sometimes happen, so having policies for when, not if, they do is the key to addressing them efficiently. These policies are especially important for payments like recurring payments that tend to be left unchecked because they are automatic.

Having clear payment policies

– clients need to know what's going on with their accounts, so being completely transparent about your policies beforehand is just as important. That way, customers need to know exactly what they'll be paying for and what will happen if something fails.

Allowing the choice of billing frequency

– monthly billing is the most convenient for the customer because it doesn't require a significant upfront cost or long-term commitment. Merchants also benefit from a regular revenue stream every month. Whereas annual billing usually includes a discount to attract customers, which can mean less processing fees for merchants by enabling one payment instead of twelve.
The importance of billing cycles and recurring payments
Billing cycles are important for subscription-based SaaS platforms. Sticking to billing in cycles helps SaaS platforms and their customers anticipate upcoming invoices, cash flow, and budget management. With poor or unstructured billing, platforms can experience late payments and negative cash flows, which are detrimental to running a business.

Additionally, recurring payments like subscriptions can help companies control their spending by acting as a built-in budget tool. Studies have shown that companies that see smaller but more frequent increments of cash flow from transactions like subscription payments save more money as a steady revenue stream encourages sensible spending.

If you need a way to simplify and automate recurring payments, Fondy is your best bet.
That's because Fondy can help:
Assisting with cash flow management
That way, businesses can predict the best times to pay their partners. Fondy enables businesses to benefit from early or bulk pay discounts while avoiding late fees and duplicate payments.
Saving time and money
Where a paper invoice can take up to a week to process, payment automation can speed up the process and increase efficiency in a more cost-effective manner.
Supporting business growth
Fondy enables your team to complete their payment processes on time, even remotely. The ability to facilitate this process remotely has proven to be especially helpful in recent times, such as the Covid lockdowns.
Reducing fraud risk
With complete visibility into every payment, you can reduce fraud risks if they arise. In addition, payment gateways can strengthen your payments by tapping into their security features like encryption, two-factor authentication, and tokenization.
Saving on interest charges
When you set up an automated payment, Fondy will make regular payments on your behalf. This can help you avoid missed payments, late fees, penalties, and interest charges on your outstanding balance.
How to manage failed payment attempts to retain customers
Failed subscription payments are bound to happen from time to time for a myriad of reasons. Maybe a customer's payment details have changed, or the error is on the side of the SaaS platform. Either way, platforms should have a strategy in place for communicating payment declines to subscribers and customers. According to a survey by PYMNTS, the method of communicating a failed payment attempt matters most to customers. Of the people surveyed, 37% of subscribers who faced payment declines were notified via email, while 16% were sent a text message, 11% received phone calls, and an additional 18% were asked to re-enter their payment or account details when the problem occurred. 18% of subscribers said their services were simply discontinued, and this led to nearly half of these subscribers eventually cancelling their subscriptions, as the "cut-off" approach is thought to be most hurtful and disrupting.

For better results, subscription providers need to be more proactive when dealing with failed subscription payments. Instead of simply discontinuing a service, SaaS platforms should give customers the choice of communication method in the event of an unsuccessful payment, as everyone is different. A choice of an email, a phone call, a text message, or even a letter (for less tech-savvy customers) would give each customer a sense of value while maintaining a strong customer-platform relationship.

Alternatively, SaaS platforms can tap into automated retry mechanisms. By automatically retrying failed operations such as payments, retry mechanisms can help software systems recover from unexpected failures and system outages and continue functioning correctly without interruption.

Fondy enables effective payment retries by giving marketplaces and platforms the ability to set up their preferred rules and configurations. This means specifying the maximum number of retries, setting retry intervals, and deciding which type of failures to retry and which ones not to. For instance, if a payment attempt is declined for insufficient funds in a customer's account, it may be better to configure a set time period before starting a retry attempt rather than immediately processing it again. By setting up these configurations, marketplaces and platforms can prevent multiple failed payments, which sometimes incur a fee or a lower payment authorisation rate by payment schemes like Mastercard and Visa.

Another method for minimising the risk of failed payments could be simply offering more payment methods. That way, merchants can offer more ways to pay and the option of adding secondary and tertiary payment methods. So if, for some reason, a Direct Debit payment fails to authorise, setting up a backup credit or debit card could reduce the need for unnecessary.
Reporting and analytics for payment flows
Good subscription management plans will also assess how you can help customers use your services and retain them for as long as possible. Compared to other billing models, subscriptions allow you to gather customer data over a longer period and use it to:
Target new customers to your platform
Develop better existing customer relationships
Reduce the costs of acquiring new customers
That's why tracking and analysing payment flows for subscription-based SaaS platforms is key to running the business and developing strategies for reducing customer churn rates, i.e., the annual percentage rate at which customers stop subscribing to a service.

Nowadays, SaaS businesses need to optimise their data dashboards and payment flows to include more useful metrics to get to know their customers and what they need better. Tracking payment and subscription metrics in one place means you'll get everything you need front and centre and makes comparing it to other metrics to gain useful insights easier.
Adding subscription-related metrics to your payment data also lets you:
Having a full view of all accounts in one go by project, department, and more
Viewing connection from some metrics with other metrics
Staying on top of renewals and optimising them
Fixing payment issues before they happen
Increasing the speed of customer service
Payment security and compliance in subscription models
Many SaaS platforms store vast amounts of personal data that can be accessed from multiple devices, which can be great but can also put critical data at risk. Therefore, SaaS providers face a multitude of challenges to meet customers' security and compliance expectations while maintaining efficiency in delivering products and services.

Fondy offers built-in secure payment processing for complete peace of mind for SaaS platforms.

Fondy conforms to all leading security protocols and industry standards, and we employ multi-layered security, fraud detection, and data protection measures across all payments on our platform, such as adding an extra layer of security with our own Fondy.Antifraud system. We also meet directives issued by governments and other bodies, including the Payments Services Directive, PCI SSC, and the SCA requirements set out by the European Commission.

Where customer data is concerned, we use tokenisation to safely secure card data and personal details, making it perfect for SaaS platforms that transfer data across various devices like tablets and smartphones. Fondy also encrypts sensitive payment data, so in the unlikely event of a breach, these random symbols disguise customer payment details, making them null and void to fraudsters.

Fondy supports many SaaS companies with streamlined payment services and features that help them sell their SaaS products. These include:
Providing a wide variety of payment methods and options
Complying with all global banking regulations
Delivering seamless customer experiences like client onboarding
Integrating payments into your website or web pages
Tracking recurring billing and other subscription tasks
These features will also contribute to helping you drive new revenue by streamlining subscription payments, enhancing customer experiences, and driving growth.