The UK's online window shopping addiction explored
Scrolling through news feeds and social media timelines can get boring, so switching to our favourite shopping sites for some virtual window shopping can be a more exciting way to waste time.

For some of us, online window shopping can become a difficult habit to kick. Spending more and more time on our phones searching through product lists can hurt our health, as well as our wallets if we decide to hit the checkout button.

With a soaring cost of living crisis and inflation at its highest levels in years, it's no wonder more and more Brits are holding off on purchases.

But how much do we actually window shop online? Are people parting with their cash every time they virtually window shop?

We decided to find out more, talking to UK shoppers through a number of surveys, and asking them all about their online window shopping habits. Revealing everything, from their favourite places to window shop online to how often they skip work to check out the latest product releases.

We'll reveal online window shopping statistics around:
Where do people window shop online the most
Questioning 1,000 UK shoppers through surveys and assessing the result of internal reports, we found out the types of places shoppers are most likely to scroll online. We've put the top three in order of popularity below, along with the most popular provider in each industry:
Clothes – ASOS
Technology – Amazon
Home – eBay
We found that overall, clothes are the most popular item to window shop with 15.7% of respondents saying so.

Breaking down the details, we found Amazon to be the most visited website for window shopping online with 5% saying so, eBay was in second with 5% and ASOS in third with 1%.

To find out more details, Fondy conducted an internal survey. We found that people are window shopping more often in the evening, with over half (53%) saying so. Night time scrolling was the second most popular time to window shop (19%) and afternoon the third most popular (16%).

The internal survey also revealed that 13% will window shop online whilst at work!
What stops people from checking out when window shopping online
Window shopping doesn't always lead to an impulse purchase, but that doesn't stop people from adding to their basket whilst browsing.

Asking shoppers how much they'd spend if they pressed the check-out button, we discovered that most (35%) shoppers have a basket worth £25 to £50. Taking it up a notch, the second most common (27%) basket value was £50 to £100, followed by £100 to £150 (12%).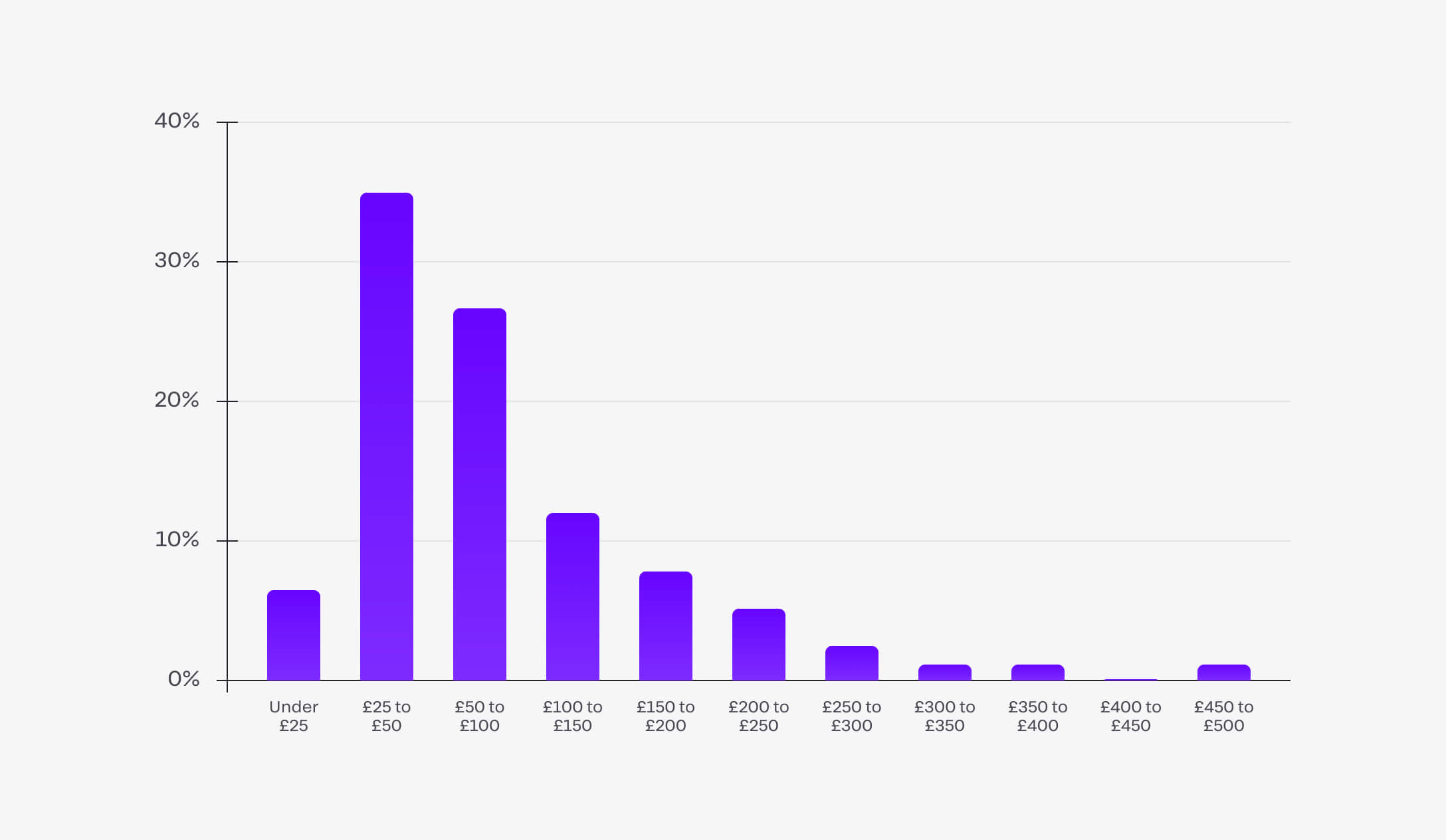 5% of respondents had a basket worth £200 to £250 by the time they'd finished window shopping! But why are businesses losing out on all of these huge sales?

The Google survey results revealed exactly why people aren't checking out when they window shop online, with delivery costs being the most popular reason respondents aren't checking out, with 30% saying so.

A lack of discounts was the second most common reason shoppers declined to checkout, with a quarter saying so. There's a benefit to shopping in-store too, as lower prices in-store stop 22% of shoppers in the UK.

Furthermore, our survey found that a lack of discounts deter more men (31.4%) than women (18.2%) than women from checking out, and delivery costs deter more women (35.4%) than men (23.8%).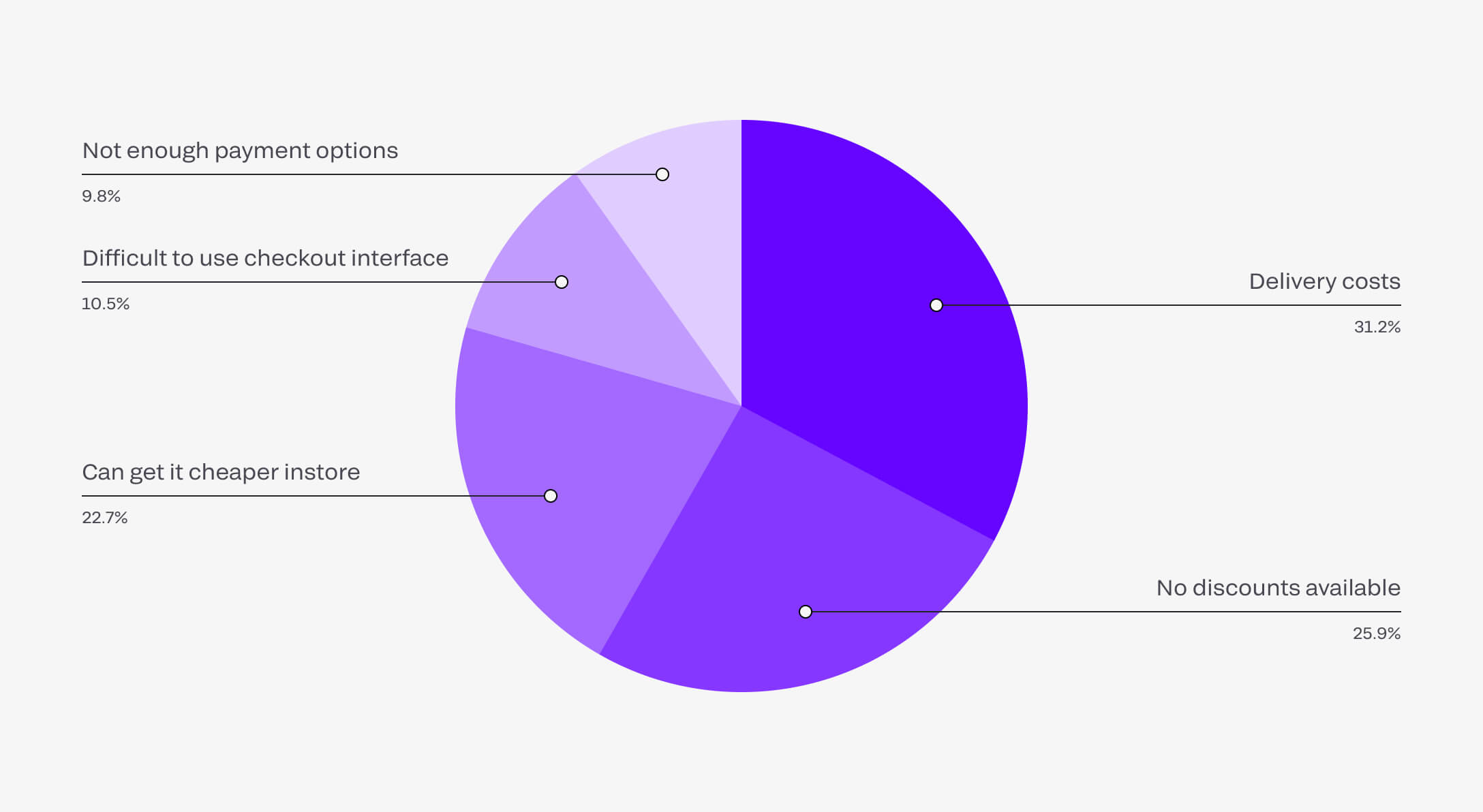 Having a smooth checkout process is fundamental to avoiding abandoned online shopping carts, but some businesses have missed out on opportunities to perfect their checkout procedures. As a result, 10% of those surveyed said a difficult-to-use checkout interface actually stopped them from purchasing.

A further 9% said that a lack of payment options was why they left their window shopping choices in the cart.
Why do people virtually window shop
We also spoke with Ray Sadoun, ‌‌a‌‌ ‌‌London-based‌‌ ‌‌mental‌‌ ‌‌health‌‌ ‌‌and‌‌ ‌‌addiction‌‌ ‌‌recovery‌‌ ‌‌specialist based at OK Rehab with over fifteen years of experience in his field.‌‌ He explained exactly why we love online window shopping so much, and told us everything you need to know to keep your mental health safe when window shopping online.

We know that people are often window shopping online for the same reasons as regular window shopping, however the accessibility of the products online can actually cause us more problems, Ray explains:
Of course, as the cost of living has increased in the early months of 2022, and life has become more difficult for most, it's great to have a bit of a browse to escape reality. Ray explains how this can actually have more of an impact on our browsing habits:
We all know that the internet is full of ways for us to compare ourselves to others, whether it feels good or not. Ray tells us how seeing other people's purchases online can breed a comparison culture that causes us to browse even more:
How does window shopping online impact people's minds
For many of us, we may see window shopping as a way to relax and unwind, browsing our favourite stores to check out any new releases or our go-to faves. However, it can actually have an adverse effect on our minds as Ray explains:
The comparison culture Ray explained can also really hurt our minds:
There are some benefits though, as Ray tells us about how window shopping online as a replacement to making an actual purchase can even help people transition from addiction into recovery: