If there's a topic we've missed, let us know, and we will be happy to dive into it.
The role of advanced APIs in enabling seamless payment flows for MedTech innovators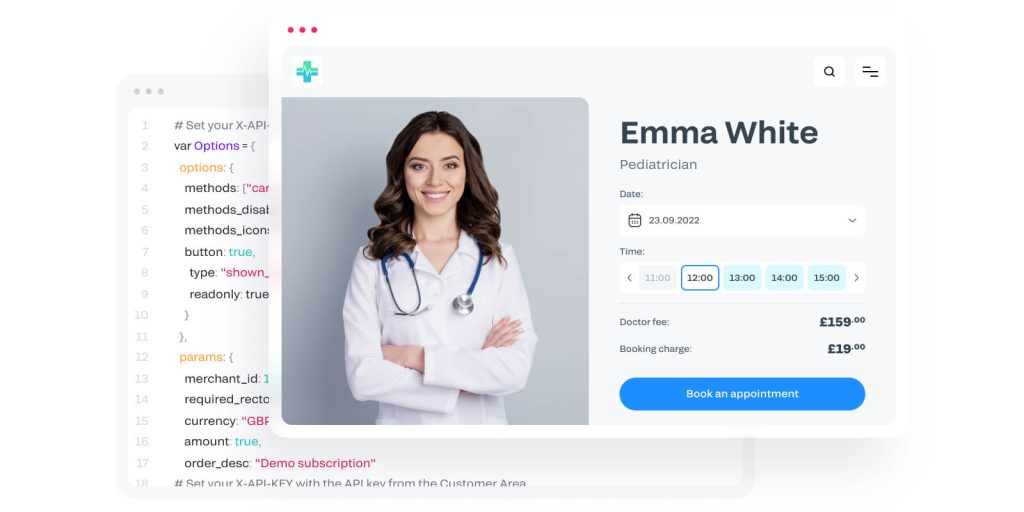 Healthcare, both its availability and associated costs, is always in the headlines. From the strain of the National Health Service (NHS) in the UK to medical professionals' pay to the effectiveness of Medicare in the United States, the global healthcare landscape is constantly evolving. By extension, MedTech, or medical technology, i.e. devices and technologies that aid patient diagnosis, treatment, care, etc., are more necessary than ever before.

But like any other technology that offers essential services, MedTech platforms are in need of reliable payment processing solutions.

One of the most common ways to offer payment processing solutions to MedTech platforms is by using a payment API like Fondy. From credit cards to mobile wallets, payment APIs are necessary to ensure a streamlined checkout flow, both for platforms and patients, by seamlessly adding payment processing capabilities to your existing software.

Fondy's payment API is a leading payment solution that offers MedTech platforms features such as instant settlements, split payments, money management, and more. Features like these are invaluable for MedTech solutions, where certain medical services and technologies require instant reimbursement or are sourced from different manufacturers or partners.
Understanding the MedTech landscape
On the very surface, MedTech helps individuals live longer, healthier, more independent lives. This reason alone explains why the value of the MedTech industry continues to skyrocket. According to Statista, the projected global revenue of medical technology is expected to exceed £500 billion in 2024.

Medical technology companies continue to disrupt healthcare with innovative products aimed at bridging the gap between providers and patients. These "gaps" include initiatives such as supporting the NHS in delivering its net zero ambitions by 2045.

As MedTech companies continue to evolve, the scope for new collaborations and partnerships to address consumers' demands, such as compliance requirements, privacy and security, and payment options, is likely to increase.
Some other challenges faced by MedTech providers include:
Finding competitive foreign exchange rates and fees

– banks across Europe make huge profits each year thanks to fees small business platforms pay for foreign exchange services such as international payments. That means that many companies like MedTech providers can often run into cash flow problems, which can delay payments to suppliers.

Embracing payments automation

– with manual processes prone to error and costly to repair, automation is the answer to efficiently executing duties such as invoice processing, billing, correcting failed payment attempts, new supplier onboarding, and payment reconciliation.

Sourcing accurate payment data

– whether paying suppliers, distributors, or making internal company transfers, having accurate payment data means everyone gets paid the correct amounts and on time.

Paying suppliers in local currencies

– versatility with supply is becoming more essential, especially with conventional markets dominated by larger competitors. As Medtech companies expand their supply chains to include partners in Africa, Asia, and South America, the ability to pay in local currencies is both convenient and cost-effective.

Securing payment processes against fraud

– financial losses due to flaws in payment processing can cost most businesses dearly. In MedTech, the reputational damage, however, could be permanent with customers deciding to cease to trade with an untrustworthy platform.
One way that MedTech companies can keep up with these demands is by partnering with existing technology companies, which can help them develop offerings that can keep up with the changing landscape. Where payments are concerned, these technology companies tend to be payment service providers like Fondy.
Why seamless payment flows are crucial for MedTech companies
Inefficiencies in the payment process are inconvenient for customers and devastating for MedTech provider's bottom line. According to research from Barclaycard, abandoned shopping carts alone potentially cost UK merchants a staggering £18 billion each year.

It goes without saying that MedTech platforms need seamless payment flows. While patients need reliable, hassle-free access to medical services, MedTech platforms need a healthy cash flow to keep their operations running smoothly, boost sales success, and maintain customer retention.

All of the above can't be achieved without smooth payment journeys. Single-click or one-click payments provide the optimal seamless purchase experience, which is especially important when it comes to improving the conversion rates of returning customers. By adding unnecessary steps to the payment process, MedTech platforms risk causing frustration among customers whilst creating more opportunities for people to reconsider their purchases and abandon their purchase carts.

But with advanced payment systems like Fondy, MedTech providers can streamline their payment and money management operations. Through features like customisable checkouts, one-click checkouts, multicurrency payouts, and more, Fondy is the perfect payment solution to complete the final step in the patient purchase cycle.
How advanced APIs empowering MedTech innovators
API stands for application programming interface and is an intermediate software agent that allows dependent applications, such as one computer, to communicate with another. In the payments industry, APIs help to facilitate data exchange and improve business efficiency, providing a number of advantages like better user experience, faster payment processing, and flexibility.

APIs allow companies like MedTech providers to integrate the technology of another company into their existing infrastructure. In this case, MedTech can integrate the payment capabilities of payment service providers via an API to fully expand their payment operations. For example, if a MedTech provider wishes to offer subscription-based or recurring payment models, then integrating the payment API of a payment service provider like Fondy can make those options readily available to patients and healthcare assistants.

Further, a payment API can offer features such as instant settlements and payouts, which provide MedTech providers with real-time cash flow data.

With traditional settlement processes, it's quite common to have one shopping basket per seller, meaning you can implement a straightforward settlement with a standard card acquirer.

But imagine a modern shopping basket like that of a MedTech platform consisting of products and services from different manufacturers. How do you manage an order like this with different delivery dates, payment processing times, and payment authorisations? Additionally, when does each product or service get settled?

With a payment service provider like Fondy, these processes can be automated, meaning that MedTech providers can conveniently split payments, settle funds, and deduct their commissions, i.e., all participants receive funds in their respective accounts.

Most importantly, Fondy's instant settlements are perfect for industries like MedTech, where timing and reliability are of the essence. Any hold-up with payments could have detrimental effects on the MedTech provider's reputation and, more crucially, on a patient's health. Instant settlements help boost a healthy cash flow, i.e. a true reflection of a business's revenue, which is the most crucial element for sustained growth. That way, MedTech platforms can react to new opportunities and sometimes challenges quickly and without breaking the bank or jeopardising their future plans.
How payouts can enhance efficiency and security
Payouts are an essential component in today's interconnected global economy. Whether it's for businesses paying overseas contractors or local partners, MedTech platforms will usually have a variety of players within their financial ecosystem that they'll need to make payouts to regularly. However, managing payouts can be a complex web to navigate due to many complexities, including:
Operating overseas

– having partners overseas means dealing with foreign currencies, payment methods, exchange rates, and international reconciliation.

Managing large volumes

– payouts are easy to manage if you're only doing a handful of daily transactions, but they can quickly get complicated at scale.

Fulfilling tax requirements

– dealing with multiple partners will require platforms to comply with tax requirements and some legal requirements of regulatory authorities.
For versatile payouts for marketplaces and platforms, Fondy features:
An easy-to-use API to support automating payouts at scale
Real-time status updates on payouts initiated and received
Multiple payment methods that vary in cost and speed
Seamless payee onboarding, including KYC protocols and verification
Automated reconciliation and outgoing and incoming payments
One major financial challenge for MedTech platforms is the rapidly rising cost of developing new products. Another challenge is managing their financial operations. Some key financial challenges for MedTech platforms include mitigating risks, improving financial stability, and maximising profitability.
To achieve the aforementioned feats, every MedTech platform or provider will have to constantly:
Monitor cash flows
Optimise liquidity
Manage working capital
Meet financial obligations
Capitalise on growth opportunities
Fondy money management features can streamline a business' entire financial operations. As a one-stop payment solution, Fondy allows marketplaces and platforms like MedTech providers the means to move money without friction. That way, it's simple for MedTech platforms to manage the flow of payments and payment data through a single API by embedding your finance infrastructure in one convenient place.
How Fondy can revolutionise MedTech payments
There are many MedTech companies currently on the market, and thankfully, many more are popping up all the time.
A few examples of innovative MedTech platforms include the likes of:
A medical device start-up that develops a wearable medical device that can accurately diagnose and manage respiratory conditions at home. Individuals can use the device without any training, which significantly lowers overall costs.


Is another one of the most innovative medical device start-ups that is developing clinically certified wearable medical devices for pregnant women to improve birth outcomes and monitoring during pregnancy terms.


A MedTech start-up that developed a remote patient monitoring platform for doctors and their patients. This healthcare solution enables healthcare specialists and providers to remotely manage their clients and patient's chronic conditions.

With innovation like this, the future certainly looks bright for the MedTech industry. To take this to the next level, MedTech providers should adopt innovative payment solutions like Fondy. That's because Fondy is built to grow as innovative platforms grow.

At Fondy, payments flow uninterrupted by complicated iterations, multiple parties, and unnecessary documentation. As a leading payment service provider, Fondy is designed to assist businesses as they scale up, be it with additional payment solutions or money management functionality.
In fact, advanced payment APIs offer several benefits to MedTech providers, including:
Reliable, scalable, and flexible payment processes
Easy implementation for developers
Seamless user experience
Removing manual intervention from the payment process
Increased payment security and protection
Improved customer journeys
Automated payment process, giving merchants back valuable time and resources