If there's a topic we've missed, let us know, and we will be happy to dive into it.
How to accept mobile payments?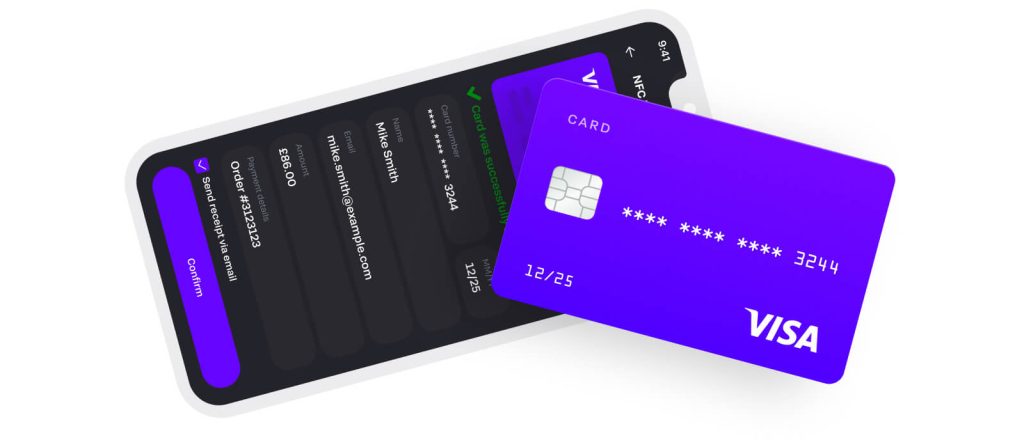 The term mobile payments can be confusing at best for both business merchants and customers. How so? That's because the term is used interchangeably to refer to both mobile card readers that accept payments and mobile payments themselves.

On the one hand, mobile card readers are point-of-sale (POS) solutions that accept physical and virtual card payments.

On the other side, mobile payments are electronic payments made via a mobile device rather than a credit card or debit card. The best and most popular mobile wallets are commonly operated by Apple Pay for iPhone or iOS devices and Samsung Pay or Google Pay for Android phones or devices. These mobile wallets can be added to either tablets or mobile phones, enabling customers to tap on a POS device to complete their credit card or debit card transactions.

For the purposes of this article, mobile payments will refer to any type of payment processing service performed from or via a mobile device to accept funds from customers. Mobile payments are made possible because of the best aPOS or mPOS technology.
What is a mobile POS system?
A mobile point of sale system (mPOS) is a portable hardware and software system that processes online transactions. With the best mobile POS systems, you can install POS software on your tablet or mobile phone device and start taking payments instantly. Unlike traditional cash registers, the best mPOS systems are portable, so you can easily plug them into a tablet or a mobile phone and a charging unit.

This simple setup is the best way for businesses to process payments via a built-in card reader. All mPOS systems have more flexibility as they can be used both in-store and on mobile or pop-up units, market stalls, and beyond. Additionally, the best mPOS systems work comfortably on both iOS and Android operating systems, which account for the majority of mobile phone users globally.

There are several other benefits of mobile POS systems, including more security, accept quicker transaction completion times, and better customer analytics. The best mPOS systems can show you how to collect key data about your customer's purchase history and how to collect their communication preferences, making it easier to provide a personalised service.

Additionally, being able to accept and analyse product performance and business promotional campaigns helps businesses make more informed decisions on how to market their products.
As a one-stop payment platform, Fondy understands how businesses need to be flexible and accept various payment methods in a variety of currencies. Want to know more about us? Great. Check out how we do it on our about Fondy page and discover what makes us tick and how that can benefit your business. Alternatively, reach us by phone at +442038074651 (UK) or +48222565504 (EU).
What is an application POS system?
Like an mPOS, an application Point of Sale (aPOS) is a software that performs similar operations as that of traditional cash registers (United States) or tills (United Kingdom).

Unlike mPOS, aPOS systems don't need card readers in order to process a transaction. Despite the misnomer, to accept credit and debit card payments with an aPOS, all you need is your mobile phone, an app downloaded onto your mobile phone or device, and a 3G internet connection.

The best mPOS and aPOS systems share similar benefits, such as checkout, payment processing, and product data features. Some even go more granular and can offer your business valuable tools such as the best inventory management systems and employee management platforms.

POS software can show you information about stock levels. That way, you can balance your in-store and online offerings so that people can know if their selections are in or out of stock.

The best inventory data can also help manage product levels, so you know when to order more products based on what's left and previous data that shows how long it will likely last. Similarly, the best POS systems come with employee engagement features that can help with giving out commissions, staffing rotas, accepting employee requests, and more.
The best types of card readers
Card readers come in many different shapes and sizes and with varying sets of capabilities. A card reader is a collective name for any technology that businesses use to read bank card details for financial transactions. Bank cards refer to both credit cards and debit cards but recently have begun to become more complex. More recently, chip card slots have been included in the magnetic swipe portion, and they now almost all accept contactless payments.
Despite these differences, most card readers fall under four different categories, namely:
Magstripe readers.

The name "magstripe" comes from the union of the words "magnetic" and "stripe". The card reading accepts the data when the customer or business merchant swipes the magnetic stripe in the card reader's slot. The magstripe contains all the customer's payment information. As the stripe is unencrypted, magstripe payment types are becoming less and less prevalent, as this payment type isn't the safest method.

EMV readers.

Meaning "Europay Mastercard Visa", EMV readers are named after the three companies that created them. Considered much safer than magstripe readers, EMV is the term for credit card chip payments that dynamically encrypts the card's payment information. Payment cards that comply with the EMV standard are often called chip and pin cards or chip and signature cards.

NFC readers.

These types of readers use near-field communication to take payments but are commonly known as contactless machines. NFC allows wireless customer payment data transmissions to a mobile credit card reader directly from a phone or bank card. Like, EMV data, NFC data is dynamically encrypted and changes with each transaction, making contactless payments very secure. Additionally, customers must enter a PIN or scan their fingerprints to open their phone before using a card added to a mobile phone wallet.

QR readers.

With this method, merchants can display their QR codes for customers to scan with their devices to initiate payments. Businesses can display QR codes in their point-of-sale (POS) app that customers can scan or print for later use.
The cheapest mobile payment systems
Affordability is a relative concept. And how costs can start to add up can affect your business budgets. What first appears cheap to some business owners could get expensive quickly when you start adding on extra features and capabilities. Similarly, card payment readers that start out as costly could end up as a good value in the long run as they could be a one-stop solution for your business.
Below are some of the best and affordable mobile card payment readers and their upfront or rental costs:
Has one card payment reader called a Dojo Go, which is only available via rental depending on your company's turnover. For businesses making less than £12,500, the rental costs £20 plus VAT per month. For a business making more than the same amount, the best option is to opt for a rental costing £15 plus VAT per month.
Has two types of card machines available for upfront purchase for business owners. The Square Reader app (£16 plus VAT per month) and a physical unit called the Square Terminal that includes a touchscreen and receipt printer for £149 plus VAT per month.
Has three types of card machines available. They are the SumUp Air, SumUp Solo, and SumUp 3G card reader. For all three card reader machines, the business functionality varies from 3G connectivity to how to enable receipt printing.
Has three card readers to choose from for your business. They are the Countertop (Ingenico Desk 5000) and the Axium DX8000, available as a portable or mobile version. Costs vary between £17 and £23 + VAT per month.
Has two card readers, the Zettle Reader 2 and the Zettle Terminal. The Zettle Reader costs £29 plus VAT, while the Zettle Terminal costs either £149 + VAT without a barcode scanner or £199 + VAT including a barcode scanner.
The best alternative forms of mobile payments
In addition to mPOS and aPOS systems, mobile payments are also available as:
Browser-based payments
Where consumers can pay or checkout via an online form or page on a mobile version of a website or an app. If customers are using a browser version on a mobile phone, there's usually the option to download the app (if the customer hasn't already) or continue the payment on the app (if already downloaded and active on the user's phone).
Mobile wallet payments
Using NFC technology, mobile devices are used as a secure virtual wallet to store customer data. This data includes card payment information, discount codes, gift cards, receipts, and more.
SMS payments
Text or SMS payments let your customers pay for goods and services via phone message. The text message contains a link that, when clicked, redirects the customer to a checkout page. When the customer enters their debit card or credit card payment details on the checkout page, they'll receive a unique code or a one-time password (OTP) to send to the text number for confirmation.
P2P payments
Peer-to-peer (or P2P or people-to-people) payment apps like the popular Monzo, PayPal, and Wise (formerly TransferWise) let customers pay for goods or pay one another. P2P payments can help request money owed from friends or contribute to funds for a good or common cause like a birthday present for a business connection. Even better, you can perform all these features on your mobile phone.
The best way of taking mobile payments is through a mobile phone or tablet app
You'll need to download a dedicated app like Dwolla, Stripe, or PayPal if you want to accept card payments with just a mobile phone. These apps use specialist aPOS software to improve transaction efficiency, safety, and speed. From there, simply enter the purchase amount, then input or scan your client's debit, credit, or business card details to collect the payment.
The best mobile payment systems
If you're considering investing in a mobile app, you're in the right place. Among the many items on your to-do list will include the app's design, operating system, and functionality. If your business sells goods and services, you'll also need to think about which mobile payment gateway apps or systems best suits your business needs and mobile phone app.

Luckily there are a wide variety of mobile payment systems and gateways available, all offering a mixture of integration, security, data encryption, and phone fraud protection.
Perhaps some of the best business payment systems are:
How to select an eCommerce platform for mobile phone and tablet apps
According to Oberlo, there are 6.6 billion global mobile phone users. For businesses of all sizes, that translates to the number of people with access to mobile phone apps, specifically eCommerce mobile phone apps that accept mobile and card payments.

From cab rides to clothing and food delivery to ticketing services, eCommerce sites have long since joined the mobile revolution. And it's just as well because most of the world's population prefers surfing on mobile websites over desktop versions. In fact, just under 70 percent of all website visits in 2020 came from mobile devices.

As a result of these impressive numbers, many eCommerce platforms were created specifically for mobile app use. Even better, most of these mobile eCommerce platforms can be used without any coding or developer know-how. This means that merchants can benefit from the best advantages of a mobile eCommerce app without the cost of outsourcing an agency or business freelancer to build the app.

Business owners with an eCommerce business need a mobile app to sell their products and take card payments. How come? That's because it's a great way of expanding the business, keeping up with the competitors, and reaching a large section of the business market. Speaking of the benefits, how else can mobile apps help? Here are some other advantages of using an eCommerce business platform for mobile apps.
Convenience.

Unlike PCs and, to a certain extent, tablets, customers can carry mobile phones (and their apps) around with them. That means they have 24/7, around-the-clock access to your eCommerce store along with a whole world of the best apps. Most businesses embracing the mobile and digital world solves the issue of how the need for mobile-responsive eCommerce platforms continues to rise. As a business owner, when you accept mobile payments as part of your business, improving your app service should be next on your list.

Professionalism.

Without a mobile app, an eCommerce website could seem unprofessional and not modern. As appearances are everything in marketing, customers would much prefer to shop through mobile apps, the way that most people prefer websites to physical stores.

Better marketing.

Having a mobile app makes it better to communicate with customers that have it downloaded. What better way to market new business products than to send accept or decline push notifications via social media campaigns about the best discounts, promotions, how-to guides, gift card product launches, and more? Without an app, you'll have to hope that customers magically find news about your products and business.

Personalisation.

With mobile apps, it is possible to study customer analytics. This data can give your company an edge when it comes to creating the best personalised content, experiences, and payment options for your customers, including how and which business card options are the cheapest and fastest. This helps build and retain customer loyalty, as most people love being made to feel appreciated when you accept methods that pertain to their needs.
Some popular eCommerce platforms for mobile apps include: