, Author: Maxim
9 reasons for your website to choose FONDY as a payment provider

One-cup-of-coffee-long, but very useful article for the growth of your business
What payment provider to choose? This is the question each entrepreneur faces when starting accept payments online.
There are 3 main types of participants in the Internet Acquiring market.
Payment Service Providers or Payment Gateways(this is where Fondy operates) offer a means to accept credit card transactions online. They are the software or application that facilitates a credit card payment.
Payment Aggregators are systems, which propose several payment methods, usually in one integration and under one agreement: eWallets (Dixipay, Skrill, PayPal), online banking, SMS-payments, POS, alternative payment methods.
Banks – their services are limited by payment cards processing and own online bank API (for example, Number26, Citibank, ING DIRECT).
Here are some advantages of Fondy, compared to other market participants.
1. Loyal Tariffs
In case of direct contacts with acquiring bank your business turnover might seem inappropriate for bank's commercial department, which leads to a less lucrative tariff at the first stage. Fondy platform works with all-scale businesses and is willing to make a compromise decision during discussing financial conditions. For example, there can be a tariff as either a percentage of turnover or fixed monthly payment.
2. Quick start
One needs to take a simplified document submission at the beginning. With the help of as simple a s ctrl+c/ctrl+v integration, you can start to accept payments in less than 3 hrs.
3. Reliability and high conversion of successful payments (up to 98%)
Once you have done integration with Fondy, your business will be provided with card processing through more than 25 acquiring banks and processing centers in more than 30 countries simultaneously. It will give additional advantages, such as:
channel redundancy. If payment processing is suspended due to the technical issues, Fondy will route payments on a reserve bank automatically.
improvement of successful payments conversion. If main acquiring bank decline payment, Fondy platform will try to make payment through another bank with an expectation of positive result.
financial risk reduction. Fondy reduces risks by diversifying working connections with multiple banks, including the biggest ones.
International acquiring. If your business operates in several countries or you are planning to expand it to new countries markets, Fondy will help you in this by providing unified payment platform, consultancy and assistance in opening, company's support and selecting of fiscal/tax residence. We have already launched FondyGlobe project to help national business to widen its opportunity in the international market.
4. Prompt payouts
Our automated payment system allows performing payouts on client's account without delay, even on the next day.
5. High quality of service
Our support team will consult you promptly and qualitatively through our Skype chat, by mail or phone on any question, related to interaction with Fondy.
Fondy's tech department also provide high level of service, maintaining system access under guaranteed 99.95% level, which means
the overall pending (both planned and unplanned) is no more, than:
in a day: 43 sec
in 1 week: 5 min
in 1 month: 21 min
in 1 year: 4 h 22 min
a number of payments, declined due to technical issues is no more, than 5 on every 10 000 payment.
the additional delays, posed by our system during payment transfer from client to processing center or acquiring bank, for 99% payments will be no more than 0,5 sec and no more than 3 sec for 99,95%.
6. Simple, but multi-functional technical integration with API
A detailed documentation of payment API and simple connection will give a wide range of opportunities to your business and such competitive advantages in the market, as:
shopping through browse
shopping through server-server request for PCI DSS merchants
buttons and widgets for ordinary payments and donations intake
regular payments
reverses
payment status checking
reports
p2p transfers
JavaScript API
verification of card
iOS, Android, PHP SDK
preauthorization and completion of payment
callbacks
all other functionality, set in API public specifications
7. Reliable and predictable antifraud-system
Fondy team has created one's own antifraud system with such advantages:
reliability: the system decline fraud payments successfully with no successful payments conversion come-down
flexibility: antifraud rules are based on several hundreds of criteriа and enable flexible setup of requirements for every specific character of business specificity
speed: antifraud system does not set perceptible delays on payment process. Such delay is less than 300 msec in 95% of cases.
8. Convenience/Usability 
Convenient personal account, in which you can:
review payments details
see detailed analytics
upload payment reports and reports of entered payouts
give your employees access to the particular actions
refund
setup design of payment pages
submit invoices
create HTML payment buttons
and much more
You can see and appraise all of personal account opportunities by using demo account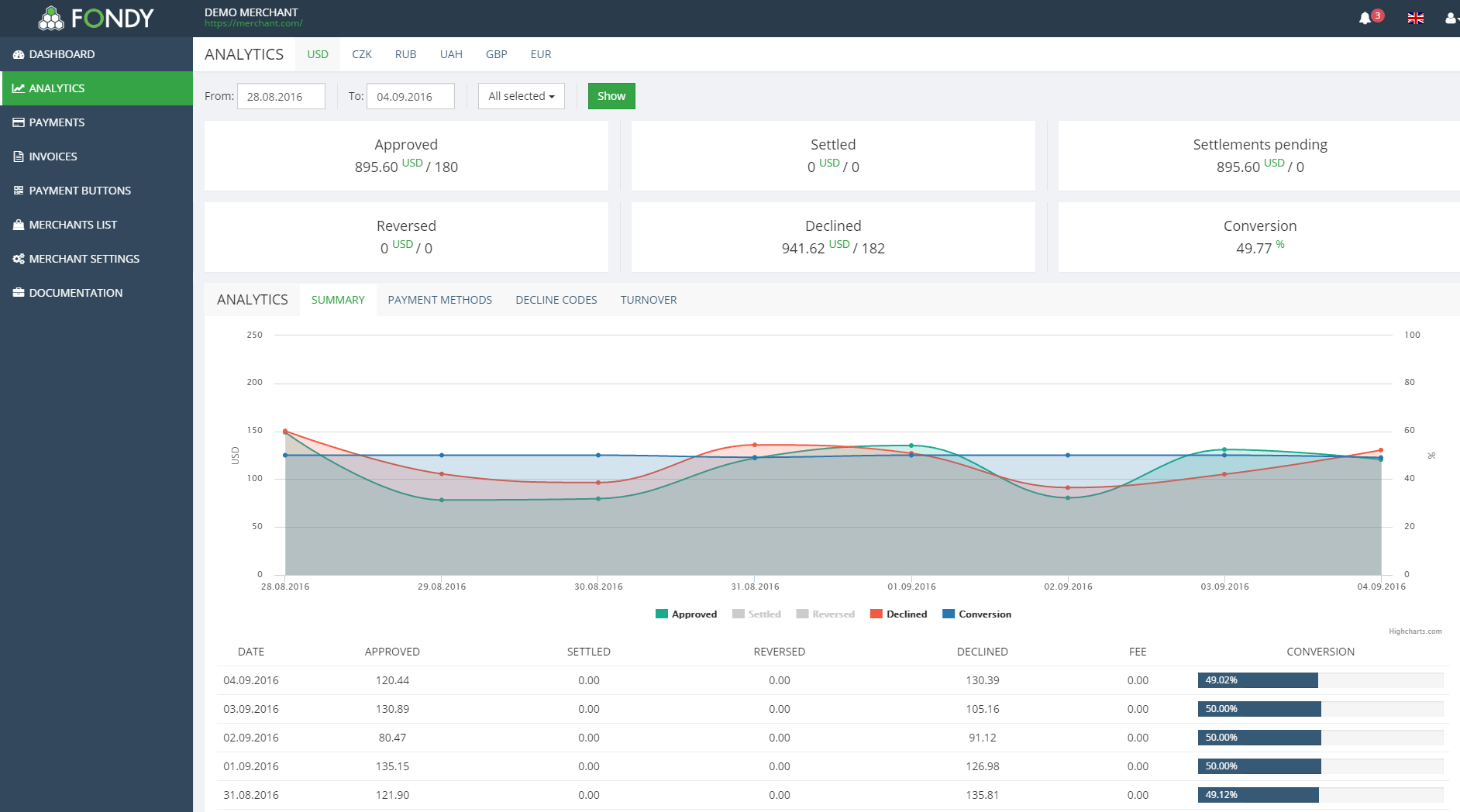 Adaptive payment page.
The interface and functional part payment page are developed for different devices to enable client to make payments with maximum comfort and fast/speedily.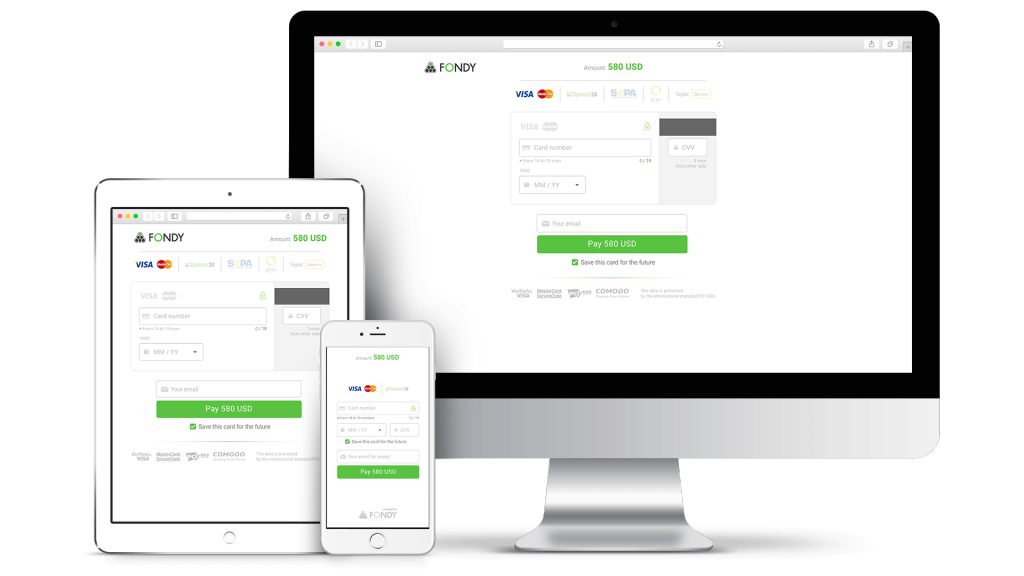 9. Financial and technological flexibility and innovativeness
We are always aware of the latest trends in industry and work effectively, using modern methodologies of software development and business processes.
We also have own financial companies, subsidiaries in Europe.
We can adjust to any requirement of our clients within the shortest possible time and make necessary development of technological, financial and judicial models of work and cooperation. This allows our clients to get benefits on highly competitive and dynamic markets. The example of the latest innovative solutions, made by our team is:
development of a work model for taxi services, which, with the aim to compete with Uber, accept payments through mobile apps
development of payment center for company, that works with more than 200 partners and needs financial clearing off with them
automation of refunds and simplification of working with them, which is of vital importance for online retail
FondyGlobe project, which helps national business to expand its capabilities in the international market.
many other daily novations, which allow us to grow fast along with our clients
Save your finances and time with Fondy
This is what your business get, cooperating with Fondy:
Reduction of time your employees spend on payment processes, reports, registers, accounting

Money available in due course

We adhere to strict payment regulation

We can help to reduce expenses on payment processing and increase incomes by means of better conversion and loyal tariffs

Reduction of expenses on integration

Ready-to-use module for CMS and simple HTML script will make integration as simple as Ctrl+c and Ctrl+v